Start/End: Kathmandu/Kathmandu
Duration: 12 days/11 nights
Tour Route: Kathmandu – Nagarkot – Chitwan National Park – Pokhara – Ghandruk – Nayapul (Pokhara) – Kathmandu
Tour Type: Landscape and Nature, Cultural and History
Tour Categories: Nepal tour itinerary
Tour Customizable: Definitely! (Tell us the specific requirements)
Guides: Local Guide (Englis Speaking Guide, other languages depend on your own request)
Brief Itinerary 
Day 1: Arrival in Kathmandu, check-in the hotel
Day 2: Full day discovering Kathmandu Valley, head to Nagarkot
Day 3: Chitwan National Park
Day 4: Chitwan National Park
Day 5: From Chitwan, head to Pokhara
Day 6: From Pokhara, head to Nayapul, begin trekking to Tirkhedhunga (1525m)
Day 7: From Tirkhedhunga to Ghorepani (2675m)
Day 8: From Ghorepani to Poon Hill (3180m)
Day 9: Trek to Ghandruk
Day 10: From Ghandruk to Nayapul, then drive to Pokhara
Day 11: From Pokhara to Kathmandu (6-hour-driving)
Day 12: Transfer to Kathmandu Airport
Day 1: Arrival in Kathmandu, Check-in the Hotel
Welcome to Best of Nepal tour, and welcome to Kathmandu!
From the airport, you'll be transferred to your hotel in Kathmandu. Here, you will be welcomed with a welcome drink and be given a briefing of your Nepal trip.
Day 2: Full day discovering Kathmandu Valley, Head to Nagarkot (B)
Being the capital city of Nepal, Kathmandu is the perfect blend of modern things and traditional ones, and you will explore everything about Kathmandu through this Nepal tour. Since Kathmandu is the most cosmopolitan city, it is always crowded and bustling with all the sounds of life.
Our first destination is Boudhanath stupa, which is also known as Boudha. Being built during the 5th century, Boudhanath has always been a vital destination of local people in Nepal and Tibetan Buddhists for meditation and pilgrimage. Visiting Boudhanath, tourists have a chance to walk around discovering the beauty of the stupa or see the spinning wheels for prayers.
After Boudhanath, our next stop is Bhaktapur – the ancient city, also known as Living Heritage. Bhaktapur is considered an invaluable gem in Nepal, giving tourists the feeling as if they are living in the prehistoric time with ancient homes and the environment. First, tourists will visit appealing Durbar Square before visiting some local families and seeing how Ju Juu Dhau (yogurt) is made. If you wish, you can try your hand at making the pottery. The final stop of the day is Nagarkot, which is renowned for its majestic, breath-taking view of mighty Himalayan.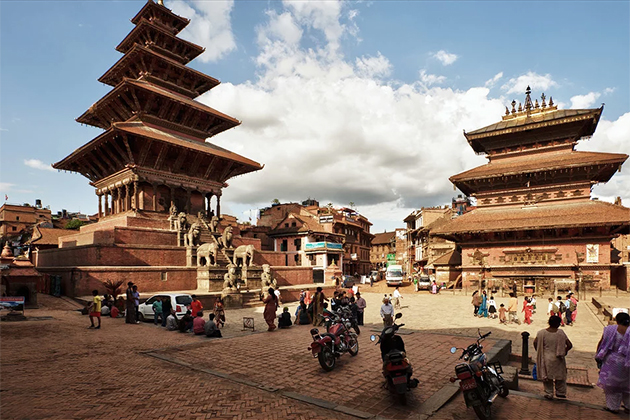 Day 3 – Day 4: Chitwan National Park (B, L, D)
In the morning, it will be a waste if you don't wake up early enough in the morning a witness the Sunrise of Himalayan. After that, we will go on our Nepal tour by going to Chitwan National Park.
Chitwan National is not only famous for its variety of flora and fauna but also famous for the fact that it is the home of the last singer-horned rhinoceros, the Bengal Tiger, gharial crocodile, sambar deer, striped hyenas, vultures, and Indian elephant.
To explore Chitwan National Park, we can take a jeep safari trip.
There will be free time for you to explore Chitwan National Park with a lot of different activities.
Taking part in a walk among nature, or starting a journey in a dugout canoe will be a perfect experience. Besides, if you're lucky enough, you will have the opportunity to see the Bengal Tiger!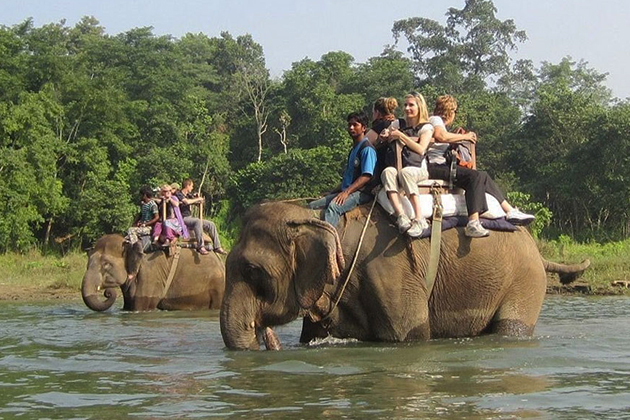 Day 5: From Chitwan National Park, head to Pokhara (B)
From Chitwan National Park, the driver will transfer you to Pokhara. Today, we will discover spectacular Pokhara, the entrance to the splendid Annapurna Range. Annapurna Range consists of Machhapuchare Mountain at 7000m and five other mountains over 7200m. The locals believe that, for climbing, Machhapuchare is off limits since it is sacred to the god Shiva.
In the afternoon, there will be time for you to relax and if you want, you can talk a stroll around the market on the lakeside.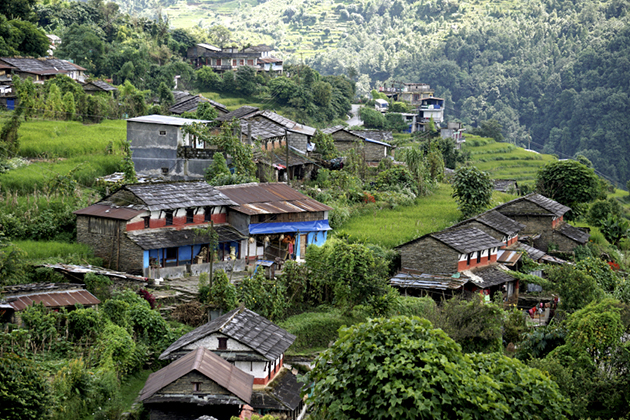 Day 6: From Pokhara, Head to Nayapul, Begin Trekking to Tirkhedhunga (1525m) (B, L, D)
This is the day we begin our trek. From Nayapul, we will head to the road ahead. After a short walk, about 15 to 20 minutes along the Modi Khola bank, we set foot on Birethanti (1065m), a big village that has a lot of teahouses and stores. From Birethanti, the trail goes on through different villages.
Our trail follows the bank of the Bhurungdi Khola, then we will climb steadily up one side of the valley to Hille (1495m).
After the short climb, we set foot on Tikhedhunga (1525m). This trek is short, and it helps us to get used to a little experience of trekking in Nepal.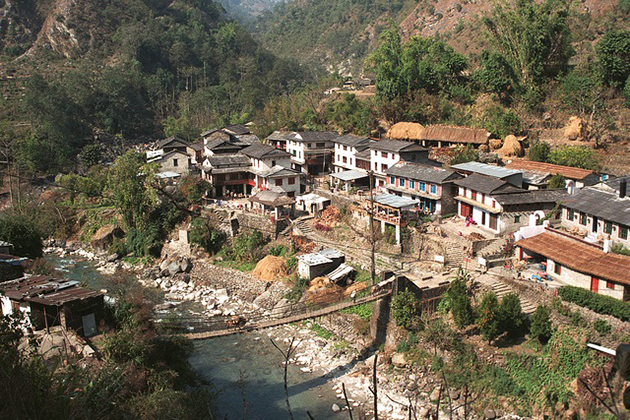 Day 7: From Tirkhedhunga to Ghorepani (2675m) (B, L, D)
To start our trek, you could climb steeply for 2 hours and after that, climb gently passing through Ulleri (2070m) and Bathanti and Magar villages.
During the trek, you will have the chance to witness the wonderful views belonging to Machhapuchure or Fish Tail (6997m), Hiunchuli (6441m) or the south peak of Annapurna (7219m).
From now, our trail gets easier. We just need to pass through the forest and climb gently up to the final camp. And if you're lucky, you see the wildlife of animals, such as different types of birds or monkeys.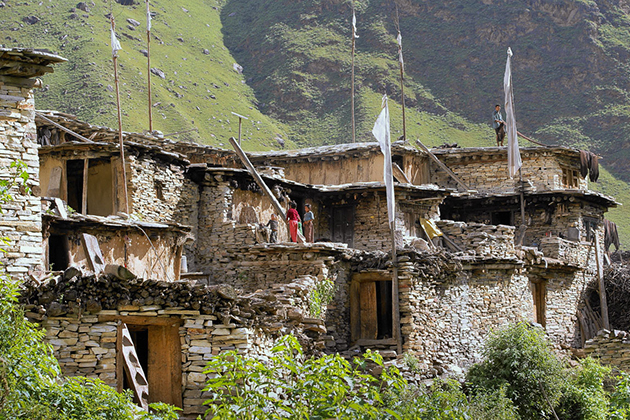 Day 8: From Ghorepani to Poon Hill (3180m) (B, L, D)
We will wake up early to get ready for the Poon hill (3232m) and enjoy the dawn view over Mount Dhaulagiri (8167m), Nilgiri (6940m), Tukuche Peak (6920m), Varaha Shikhar (7847m), Mount Annapurna I (8091m), Annapurna South (7219m), Annapurna III (7855m), Machhapuchhre (6993m), Annapurna IV (7525m), Annapurna II (7939m) and Lamjung Himal (6931m) and some other mountain peaks covered with snow.
After breakfast, we trek from Ghorepani to Tadapani (2650m), passing through the deep forests of wild animals, local birds, rhododendrons and green landscapes. Tadapani is a little village, which is surrounded by marvelous forests.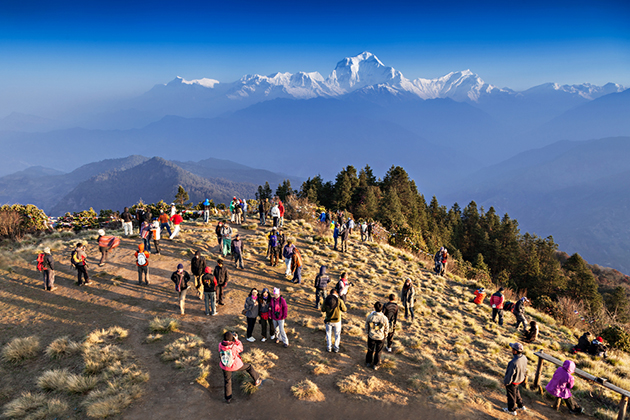 Day 9: Trek to Ghandruk (1940m) (B, L, D)
After enjoying breakfast at the hotel, we will head to Ghandruk. There we can see most of the traditional villages and homes of Gurung people. The trail is, mostly, going through forests and goes down gently.
We will stop by the Gurung museum to understand more about their traditional costumes and equipment.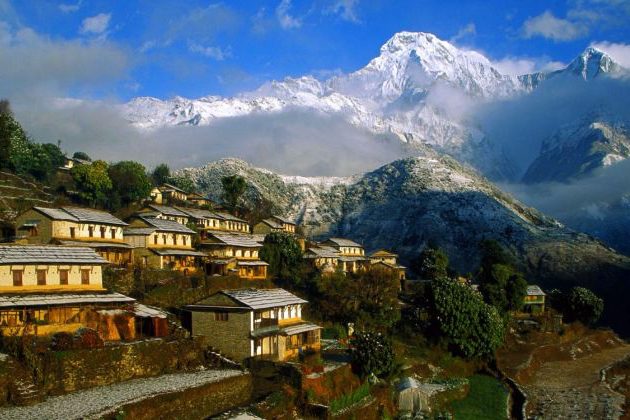 Day 10: From Ghandruk to Nayapul, then drive to Pokhara (B, L)
This day is the final day of our Ghorepani trekking. Climbing gently half of the way through the rice paddy field and some local villages, we reach Syauli bazaar, then we walk to Nayapul. From Nayapul, you will be transferred to Pokhara.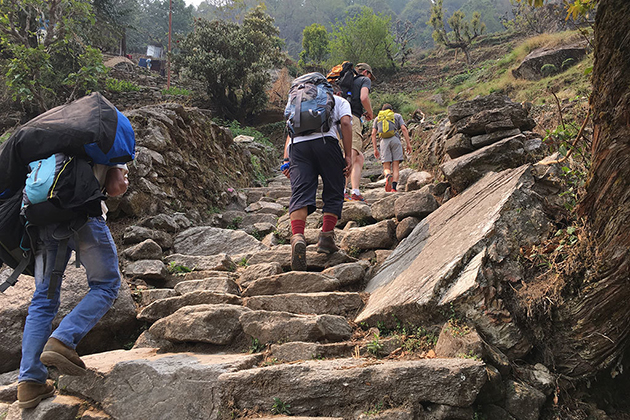 Day 11: From Pokhara to Kathmandu (6-hour-driving) (B, D)
You will be transferred to Kathmandu by tourist minibus.
Reach the rafting point in the Trisuli river, and you will have the change to enjoy a three-hour-rafting.
Arrival in Kathmandu, you will celebrate your fascinating trip with a farewell dinner.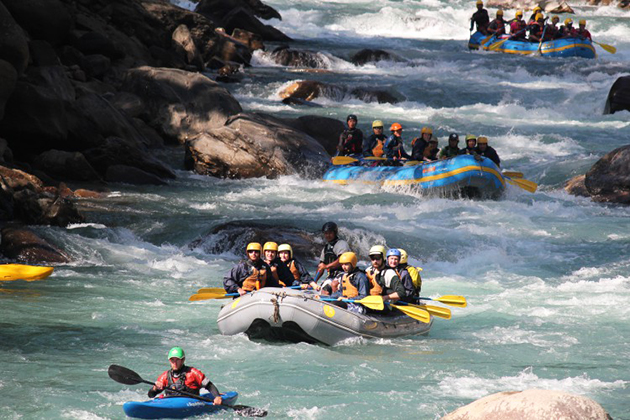 Day 12: Transfer to Kathmandu Airport (B)
Today, you will be transferred to the airport for your flight back home. Hope you enjoyed your Nepal tour and wish that we could serve you next time.