You may hear from some people, guidebooks or traveling websites that the best time to visit Nepal is in autumn and spring. Notwithstanding those thoughts, each season has its own beauty and enchantment, and tourists, with the right instruction, carefully-prepared plan, can enjoy Nepal tours any time in a year to have different experiences of 4 different seasons. So, how do I say that? Keep scrolling down and get an insight into the time that offers the best nature and climate in Nepal.
Best Time to Visit Nepal – Seasons
Nepal in Spring (March – May)
The Nepali spring starts from the beginning of March and ends at the end of May with occasional rain. Despite the misty skies sometimes, the springtime is a great time for trekking since the weather is stable with a comfortable atmosphere and temperature. Spring is also the season of colorful flowers blossoming. Come to Nepal in Spring, you will have the chance to witness Nepal national flower – rhododendron at its best, with charming color and alluring beauty.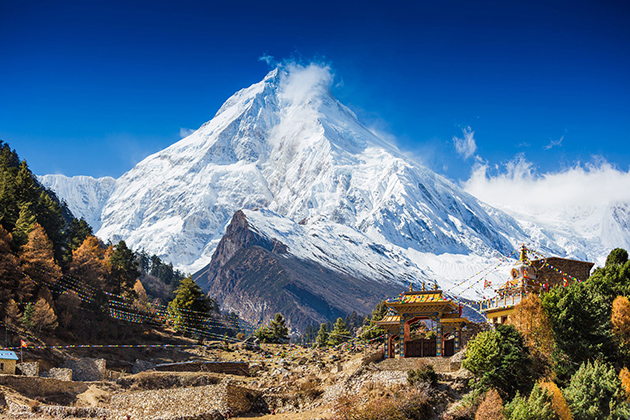 Nepal in Summer (June – August)
Summer, or the monsoon season, is hot and humid. There is rain almost every day, and sometimes there are thunderstorms in the evening. The special thing is that rains often appear in the nighttime so that in the morning, the sky will be clear and crystal. However, summer is still the best time to explore the cities in Nepal. And if you are lucky enough to come to Nepal by the end of summer, you should visit the countryside in Nepal to enjoy the fresh atmosphere, the green spaces and feel the lush germ of plants.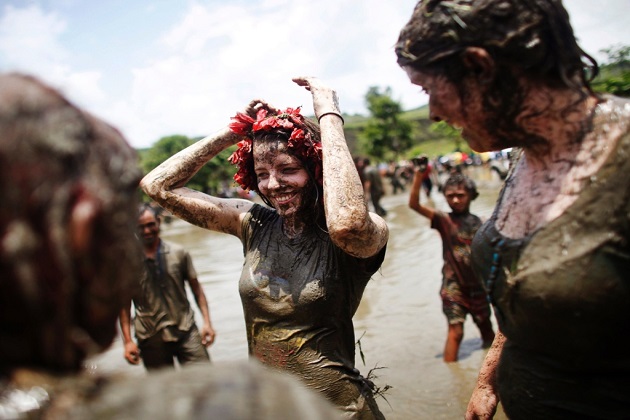 Nepal in Autumn (September – November)
Autumn is said to be the greatest time for tourists. In Autumn, Nepal celebrates its biggest, largest and most famous Hindu festivals Dashain, which is followed by Tihar. Besides, trekking activity reaches its peak in Autumn since it is dry, plus a mild and comfortable temperature with the clear sky and wonderful mountain views.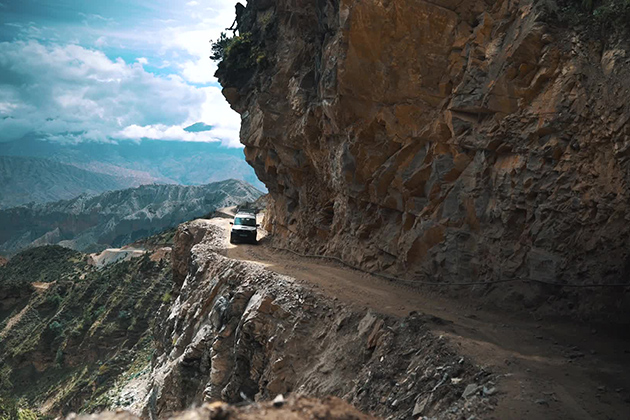 Nepal in Winter (December – February)
In the early morning and night, the weather is cold. In the daytime, if it's sunny, the weather is warmer. Trekking in winter is good, but just in the lower elevations. Although the weather is chilly, no snow can be seen in the cities so it is suitable for exploring different sites and destinations.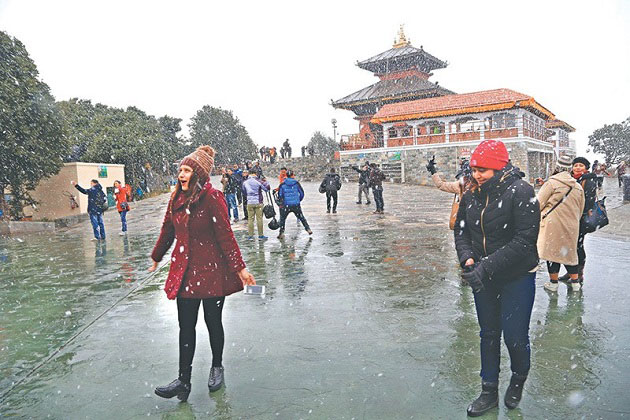 Best Time to Visit Nepal – Region
Although Nepal is quite small, the climate in Nepal varies from region to region.
Best Time to Visit Kathmandu – The Capital of Nepal
The peak tourist season is Autumn. In Autumn, from September to November, there are a lot of festivities and the weather is dry, mild and bright with wonderful temperature and sunlight.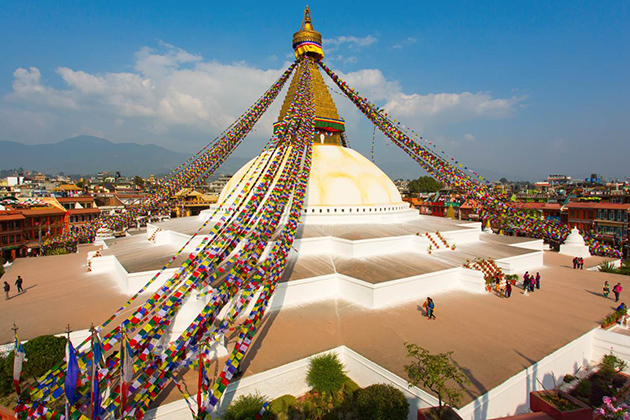 Best Time to Visit Pokhara – City of Eight Lakes
Similar to Kathmandu, it's best if travelers can come and visit Nepal during the Autumnal time (September to November) on account of perfect weather. In the summer, the climate is a little humid with occasional rain. If you're a fan of sports, winter is a good time to visit Pokhara because there are numerous sports events held between December and January.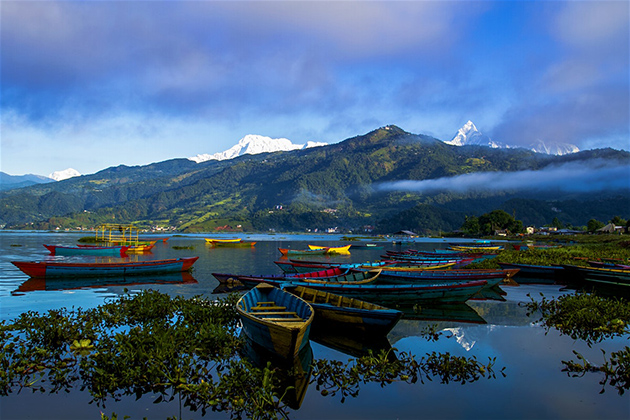 Best Time to Visit Chitwan National Park – A World Heritage Site
If you love bird-watching, the perfect time for you to visit Chitwan National Park is the time from September to November and from February to April.
From October to March, the skies are pretty clear and bright. If you want to see the wildlife in Chitwan National Park, you should come after the time local people cut the grass, from January to March.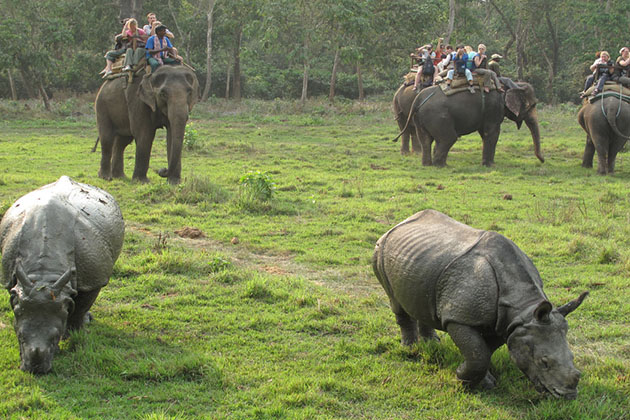 Best Time to Visit Lumbini – A Buddhist Pilgrimage
Lumbini attracts thousands of pilgrims between April and May as they come to celebrate the birth of the Lord Buddha. So this can be an excellent time if you wish to expertise Nepal's Buddhist culture.
Actually, tourists can visit Lumbini anytime. However, in summer, the temperature can be high and the weather is hot and humid. Autumn, which is dry and bright, is the recommended weather for tourists.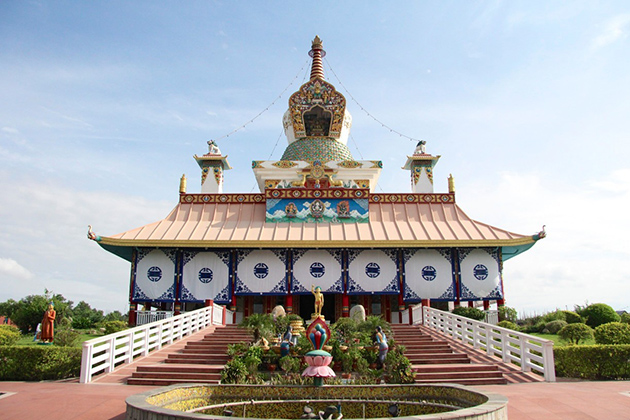 Best time to visit Nepal for Trekkers
October and November mark the end of monsoon season and the arrival of early-season trekkers, who come for the clear skies and not-too-far-below-freezing temperatures. Days float around 15°C and night temperatures rarely dip below zero in the lower parts of the Annapurna Circuit. Of course, the temperatures sink a little as you climb higher – especially at Everest Base Camp.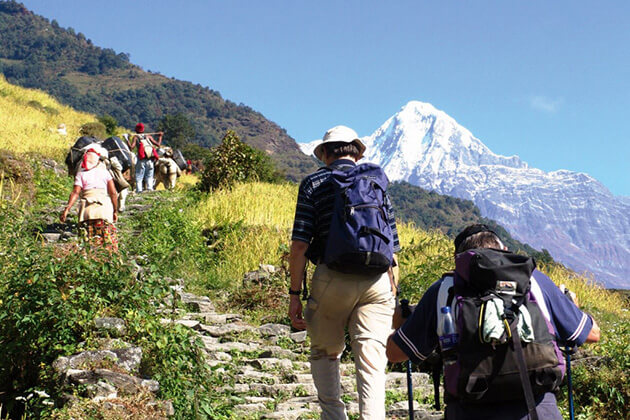 Temperatures drop to their lowest from December to February. Snow heavily falls some passes on the Annapurna Circuit, but manifold tracks on the lower elevations remain open all year. Just take note that temperatures drop to a teeth-chattering 1°C in the daytime and past -10°C at night all over Nepal. A lot of the cheaper hotels in Kathmandu have no heating, so pack your thermals.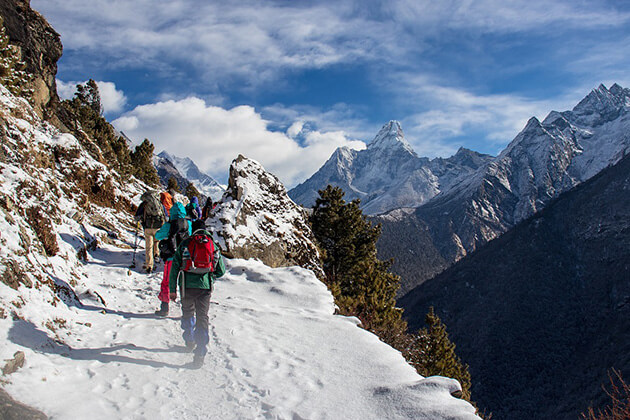 Rhododendrons bloom in March and April, painting whole hillsides of the Ghorepani Poon Hill Trek in a blaze of pink and white. During this period, temperatures rise; however, so do the number of avalanches, so tracks might be closed unexpectedly.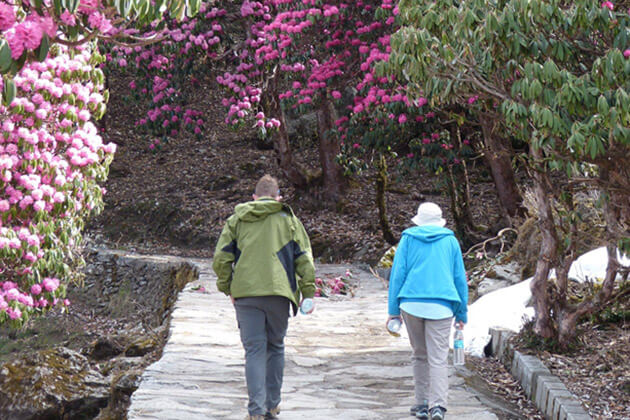 Monsoon season swings back around in June. Trekking trails are muddy & rife with leeches, the mountains tend to be often thick with cloud, and landslides are common. Saying that the season isn't a complete write-off. More rain falls at night, so the mornings are often beautifully crisp. If you want to travel then, avoid Nepal's popular circuits and head to Himalayan regions like Manang, Mustang or Dolpo that sit in the rain shadow.