Duration: 10 Days/ 9 Nights
Start/ End: Kathmandu/ Kathmandu
Tour Route: Kathmandu – Dhunge – Sailung – Khola Kharka – Surkhe – Tinghare – Doramba – Galba – Dongme – Lubughat – Bhaktapur – Kathmandu
Tour Highlight:
Enjoy an off-beaten-path trek
Experience the daily life and tradition & culture of the ethnic groups
Discover the pristine beauty of Nepal
Rubber boat rafting
Catching and Eating fish with the local
Tour Category:  Nepal Culture Tours
Tour Customizable: Definitely! (Tell us your interest in the inquiry form – without any commit)
Guides: Local guide (English speaking guide or other languages as your demand)
Transportation: Private first-class-air-conditioned vehicles
Accommodation: Listed below or equivalent. Rooms with private bath or shower, hotel taxes, porterage, tips, and service charges.
Brief Itinerary
Day 01: Kathmandu Arrival
Day 02: Free Day in Kathmandu – Kathmandu Sightseeing
Day 03: Trek to Dhunge
Day 04: Trek from Dhunge to Sailung & Khola Kharka
Day 05: Trek from Kharka to Rajveer Monastery & Surkhe
Day 06: Trek from Tinghare & Doramba
Day 07: Trek from Doramba to Galba & Dongme
Day 08: Trek from Dongme to Lubughat
Day 09: Transfer from Lubughat to Bhaktapur
Day 10: Kathmandu Departure
Day 01: Kathmandu Arrival
Welcome to Kathmandu – Nepal. After having a pretty flight offering a stunning view of the whole Kathmandu Valley, our representative will be waiting to warmly greet you at the existing door and, head to our very first attraction – Buddhist stupa of Buddha and the Hindu temple of Pashupati. We then escort you to your hotel for relaxing after the journey.
Later, having dinner and your guide will give you a detailed itinerary for the upcoming culture trip.
Overnight at the hotel.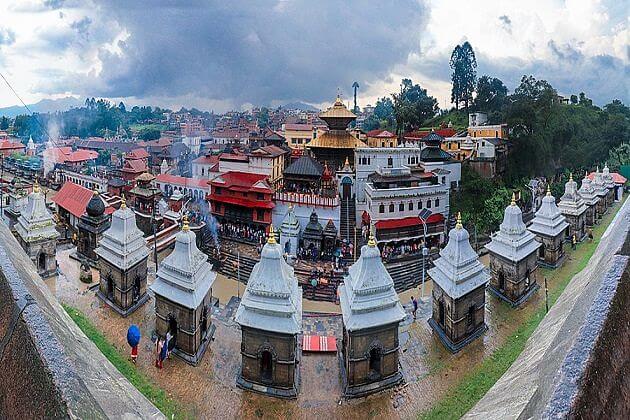 Day 02: Free Day in Kathmandu. Kathmandu Sightseeing
Start the second day with breakfast and we together stroll around every winding alley, through the hustle and bustle local market. All the way we pass through will lead us to Kathmandu Durbar Square which is one of the most wonderful World Heritage Sites in Nepal with its ancient temples and palaces inside.
Having lunch and in the afternoon, free for preparing for the trek.
Overnight at the hotel.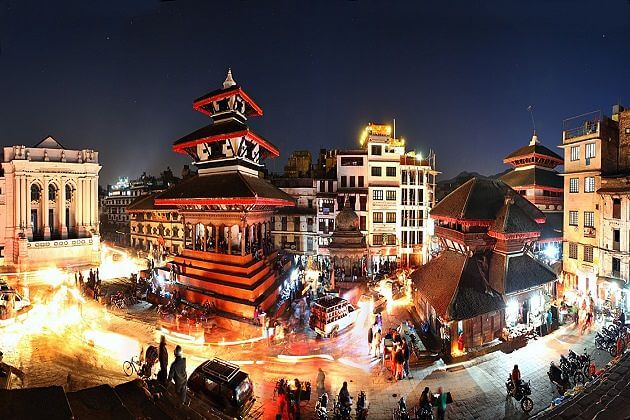 Day 03: Trek to Dhunge
Today, we take a 7-hour drive to Dhunge, Dolakha. En route, take a look at the outside world as we drive along big rivers with a majestic landscape crossing green hills and valleys where we can see the locals using the streets like their backyards doing various interesting activities.
The drive keeps passing along the Araniko highway leading us to the Tibetan border until the small town of Khadichaur appears for us to stop for lunch. Khadichaur is a local bazaar where we can find goods that are imported from Tibet being sold for a song. We then drive towards Everest. Note, when we reach Mude, the road turns into a very bad one taking us about 3.5 hours to Dhunge where we spend the rest of the day with the locals there.
Overnight at the homestay.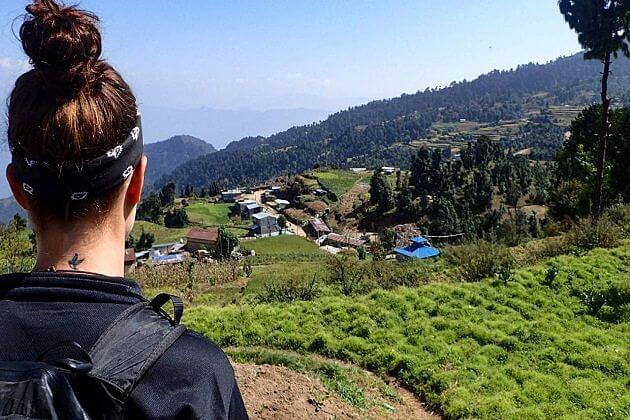 Day 04: Trek from Dhunge to Sailung & Khola Kharka
This morning, our trekking staff will meet you and we will introduce ourselves to each other. There will be a porter going with you helping on uncomfortable trails and most importantly, we have more friends to enjoy a very good time. Lunch at Dhunge and we then trek upwards Thulo Sailung. After an hour of trekking, we have some time for a tea break.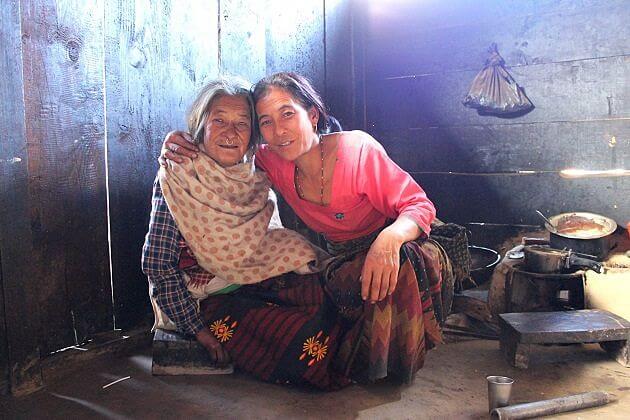 When we reach Sailung at the altitude approximately 3147 meters, we can observe the spectacular vistas over Kalinchowk and onto Annapurna, Ganesh Himal, Langtang, Rowaling, Kanchenjunga, and Everest mountains. Have a look to the south, there will be the sparkling Sun Kosi river and the way down to Nepal lowland. Thulo Sailung is a destination where the Tamang people living in and it is home to their main deity – Sailung Phoi Sibda Karpo and their ancestors.
After an hour and a half trekking downhill, we then reach the Kholakharka village (2950 m) where we spend the rest of the day in Kholakharka Community Lodge. The fact that this village hasn't got electricity; however, it is not an inconvenience because it is the best opportunity for us to experience the authentic lifestyle of the ethnic group.
Later, in the evening, there will be a female visiting us to explain everything about the village like what Shamanism is and most importantly, she will show how a Shaman heals. Interestingly, she will stay overnight with us to accompany us along our way tomorrow.
Overnight at the lodge.
Day 05: Trek from Kharka to Rajveer Monastery & Surkhe
Today, after breakfast, we head to the Rajveer Monastery, a Buddhist one run by three nuns, for a tea break and a small talk. The temple once was broken down in the earthquake; however, they are in full swing to be built a new one.
1.5 hours after Rajveer, we stop for lunch in the Taman village Dadua Palate. Our journey continues, we pass through the forest and bump into much different flora and fauna before holding our guide's hand on steep descents. From Dadua Palate, we stop over and spend an hour and 15 minutes on a nice village converging two monasteries and rough paths downhill. Crossing a suspension bridge, we then have an hour uphill to Surkhe village with a trail along gorgeous terraces.
The rest of the day we will spend time staying with the ethnic group Newar and learn about the homemade 'raksi' spirit.
Overnight at the homestay.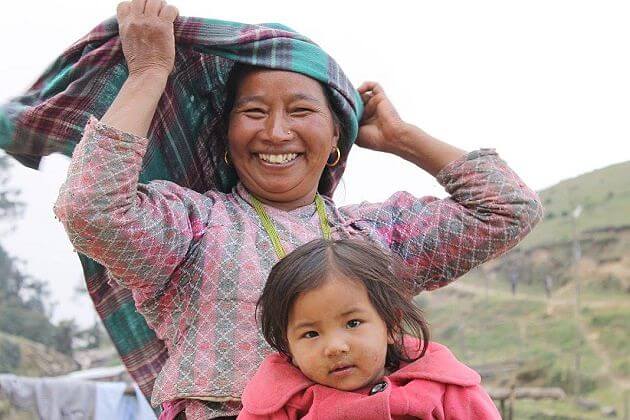 Day 06: Trek from Tinghare & Doramba
We will be welcomed by people from the ethnic group Thami when you reach their village, just 25' away from our homestay. The Thamis has been considered to be disappeared because of the very small population. Spending time staying at their village, we have 2 hours getting an insight into their unique tradition.
After that, we hike to Doramba Bazaar where is home to 995 households. Before reaching Doramba, we cross slopes covered by vibrant rhododendron forest and pass through a large Soviet-style monument.
In the evening, we have time to enjoy wonderfully cultural show built by the locals.
Overnight at the homestay.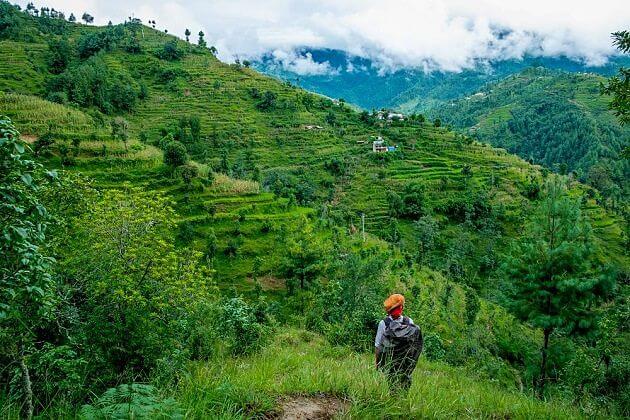 Day 07: Trek from Doramba to Galba & Dongme
Leave Doramba behind, we trek through a lush pine forest where offers us an opportunity to encounter various bird species and other animals. After an hour of trekking, we will be at a resort where we enjoy tea break and enjoy the stunning views of hills below where sometimes, you will see a tiger running between them.
We trek to Augleshwori peak, then, to marvel at the snow-capped peaks and have lunch in Galba Bazaar. After that, a 3-hour journey will lead us to Dongme where we will stay with the lama and his wife.
Overnight at the homestay.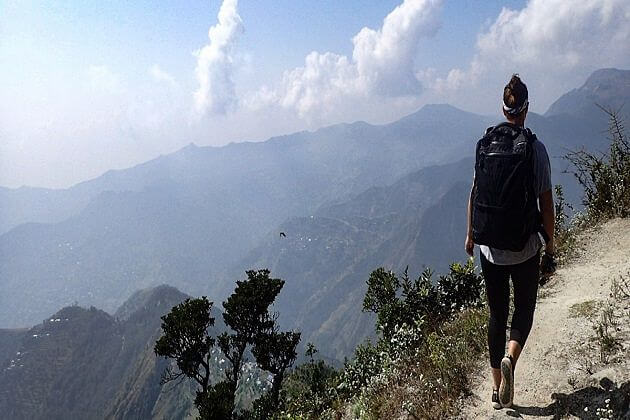 Day 08: Trek from Dongme to Lubughat
Today's trek is quite long but our trail will be slightly flatter. Trek to the lowland and there is no risk of being cold. After an hour of trekking, we reach Sunapati and if you want to climb to the Sunpati peak – you can do it to witness the impressive scenery from there. Another 5-hour trek will take us to Lubughat, a big bazaar where we can find a long sandy beach just a few minutes away from there, and we will stop for lunch. In Lubughat, we will cross suspension bridges where provides breathtaking views of the green fields below as well as the narrow paths to the bazaar. Then, we go to the Majhi Village, home to traditional fishermen, and it will be an opportunity to enjoy catching and eating fish together with the locals. Also, you can learn about the tradition & culture.
In the evening, we can both overnight at the homestay or camping fire.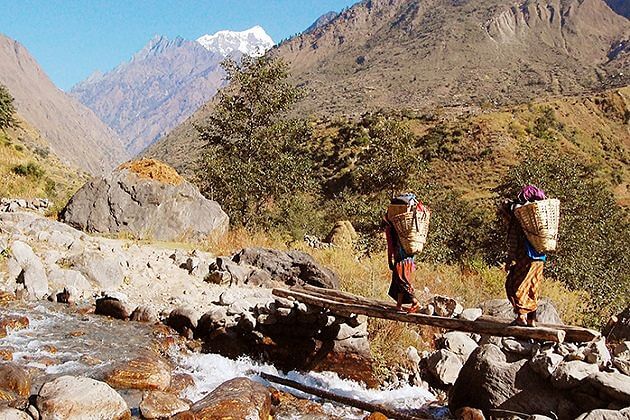 Day 09: Transfer from Lubughat to Bhaktapur
The last day of our culture tour in Nepal. Today we cross the river by rafting with a rubber boat. Our new Majhi friends will go with us. The river rafting trip is calm and peaceful offering the right atmosphere for us to both relax and have a little chit chat together. In Nepalthok, there is a bus that will be waiting to escort us to Bhaktapur.
The rest of the day will be yours. Enjoy the things that you want.
Overnight at the hotel.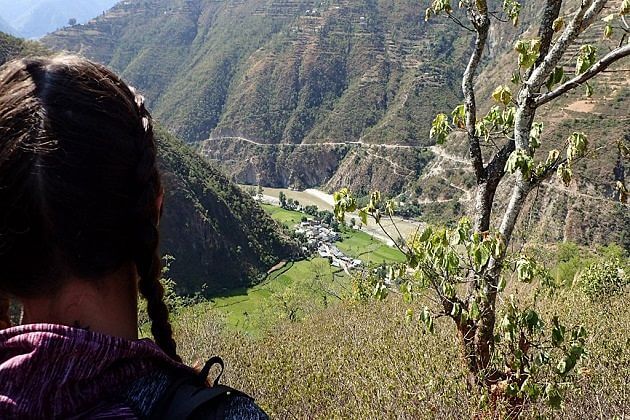 Day 10: Kathmandu Departure
Time to say goodbye Nepal. Enjoy your last moment with breakfast, then stroll around the city, do some shopping, or just relax at your hotel or a coffee shop and recall the unforgettable moment we spent on our trip. Before 2 hours when your flight takes off, our representative will meet you and escort you to the International Airport. The trip ends, hope you have the best time with us and wish that we can serve you next time when it comes to another Nepal travel packages.