Nepal Culture Tours | Culture Tours in Nepal 2023 – 2024
Whoever asks me what should they do to get an insight into a country, to get one step closer to the spiritual life of the locals, and to be honest, nothing better than enjoying the national tradition & culture in that country that will give you a sweeping view of these things. It is true, I believe, especially when you visit Nepal, home to more than 100 different ethnic groups, where converge the rich culture and tradition, you will get a deep look into the spiritual value that has been playing an important part in Nepali community.
So, to do such things like that, we would like to offer you our ready-made Nepal Culture tours that are specially designed to let you experience the Nepali culture as many as possible in an hour. Don't be hesitant as let stroll around and have your own tour packages among our cultural tours in Nepal. If you do not meet your interest in any tour, feel free to contact and tell us your interest then our tailor-made experts will customize a unique trip for you to high on the best Nepal vacation packages.
---
Best Things to Do and See for Your Culture Tours in Nepal
A culture tour in Nepal offers you so many things to do ranging from witnessing sacred pilgrimage sites, historical monuments and World heritage sites to an opportunity to interact with Nepali people and experience their daily lives. So, to get to know what exactly the best things to do and see on your Nepal culture tours are, just elegantly read on and discover.
Visit a Buddhist Monastery
As you might know, Nepal is a good example where both Hindu and Buddhist shared the same temples for worshiping and conduct respective practices, however, Buddhism has always been the second religion. In Nepal, there is the largest Shiva Temple, the Pashupatinath Temple, located in a small town – Deopatan where is barred to non-Hindus but travelers can witness the view of the inner courtyard from the Shleshmantak hill.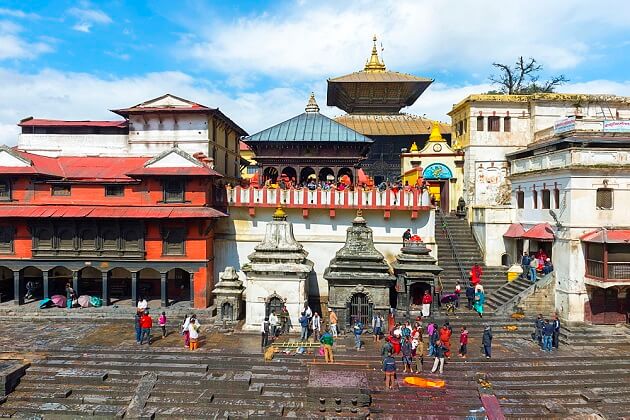 Your culture tours in Nepal will be so much more interesting when you head to the north of ancient Buddhist town where Boudhanath and Kopan hill can be marvel at for miles. The hill is home to the Kopan Monastery, a center for Buddhist study, meditation, practice, and retreat, where houses over 360 monks and nuns, mainly from Nepal and Tibet. The monastery is also a spiritual oasis for foreigners from all around the world wishing to receive teachings for 7 – 10 days. Overall, your Nepal culture tours will be worth the time you spend on the Kopan monastery.
Get into a Religious Festival
Just like other countries in the world, religion is the core of Nepali culture. Enjoying Nepali festivals, it is a chance to indulge yourself in the richness of the Nepali culture & tradition. There are 2 festivals that you should attend if you can, Dashain and Tihar.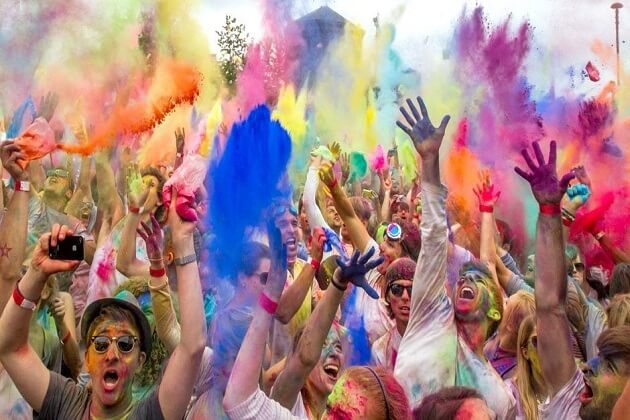 But there is also a festival that I highly recommend you enjoy in – Holi festival, also known as Festival of Colors. This festival takes place for 2 days in late February or early March. During this festival, you will see a lot of people carrying dry colors, water balloons, and water guns on the street and then, they throw colored powder and water at each other.
See a Buddha Stupa
Legend had it that the stupa is a religious monument which was originated from the mounds of mud and clay covered the relics of Buddha. For the best Nepal culture tour, the Swayambhunath Stupa is the must as it is an ancient structure and in the 5th century, it was a pilgrimage destination.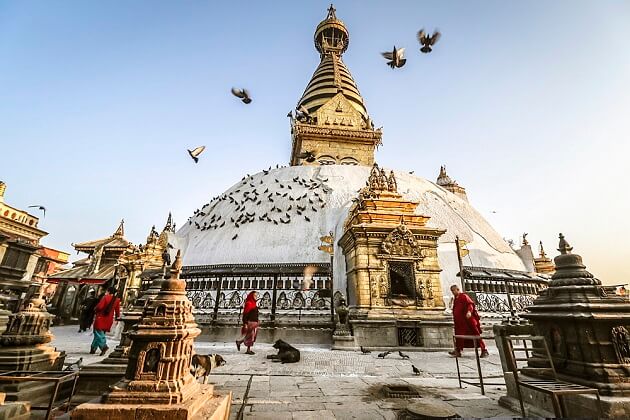 Pilgrims at Swayambhunath consists of Hindus, Buddhists from northern, southern, central Nepal, and from Tibet. Once there, you can admire something impressive in each morning before dawn as there are hundreds of pilgrims take steps upwards the monument's 365 footsteps and start a reverent and religious clockwise that encircles the stupa. Also, you will notice that there are eyes of Buddha seeming to observe the world from 4 directions. Do not forget to visit this landmark on your Nepal culture tours because you can visit every day.
Discover Durbar Square
Lying in the heart of the capital city – Kathmandu, the Durbar Square (Durbar means palace) was the place where the city's kings were crowned. Your Nepal culture tour will be perfect once there because the traditional heart of the old town, as well as the most spectacular legacy of the traditional architecture of Kathmandu, have been still remained there. Inside the square, you can see the Hanuman Dhoka Palace where the coronation of the Nepali monarch still takes place nowadays. There are also 2 museums that you can find there, the King Tribhuvan Memorial Museum and the Mahendra Museum. Buy a ticket and then, you will be able to explore the old-ages photos and artifacts at the Mahendra Museum. At the end of the south of the square, you will see the Kumari Chow where you will learn a bit more about the living goddess of Nepal.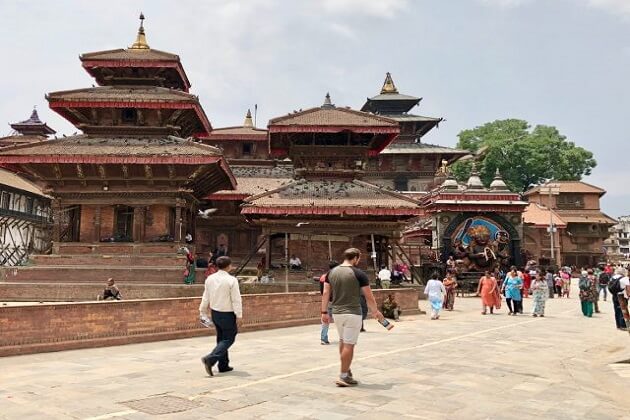 Eat Traditional Dishes
Well, to explore the culture in Nepal, nothing better than experiencing its cuisine. There are several traditional dishes that you must try during your Nepal culture tours, I will list them below:
Dal Bhat
(lentil soup): If this dish is cooked properly, its taste is amazing. You can easily find this dish in most restaurants.
Rotis
: It is a kind of pancake made of wheat or rice flour and generally served in most restaurants. Once try this dish, you have to eat with your right hand because most Nepali do not use cutlery. However, rotis can be handy in preparing bite-size tastes.
Lassi
: This is a refreshing drink that is made from yogurt and water.
Chatamari
: I consider it a Nepali pizza. This dish is made of rice flour with toppings like meat, vegetables, eggs, and sugar. Both the locals and tourists are keen on this dish.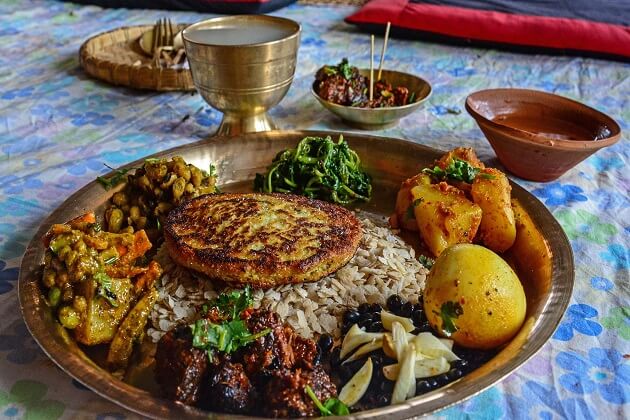 Nepal Culture Tours – Tips about Culture in Nepal
Proper Greetings in Nepal
The first thing you should learn to prepare your culture tours in Nepal is its greeting. The usual greeting among the Nepali is 'Namaste' accompanying pressing palms of their hands together like you are praying. The word 'Namaste' means 'I bow to the divine in you' and it is used to greet, thank, and respect with spiritual meaning.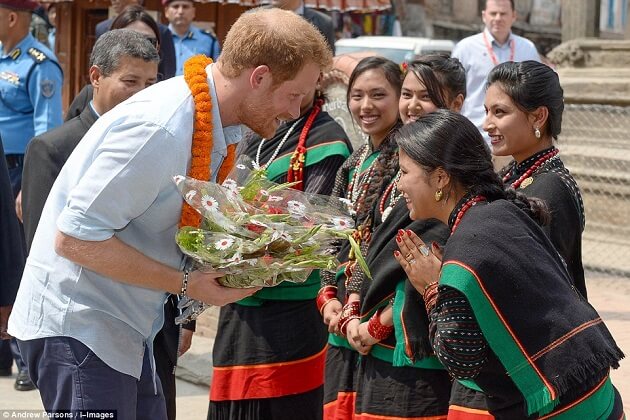 How to Dress in Nepal
Visiting Nepal, you should dress modestly, especially women. Generally, your clothes should cover your upper arms to the elbow, upper legs to the knees, neckline to your waist. When you visit sacred sites, you must dress formally. And, if you are going to go swimming, ladies have to bring a one-piece swimming suit.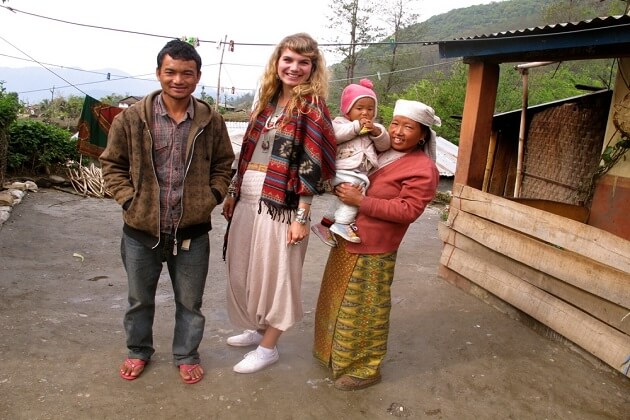 Nepal Code of Conduct
If you enjoy a Nepal vacation with your lover, remember that the display of affection between a female and a male like kissing will discomfit most Nepali and especially when you are in rural areas. Furthermore, you might see the two men hold hands together on the street. Trust me, it is very normal between friends. Nothing beyond the simple friendship. Finally, do not be confused when a Nepali sits next to you and his arm around you.
Hand Etiquette
People in Nepal, especially Hindus consider the left hand not to be clean as it is the one they use for nasty jobs. Thus, when you shake hands with others or offer, receive anything, just use your right hand.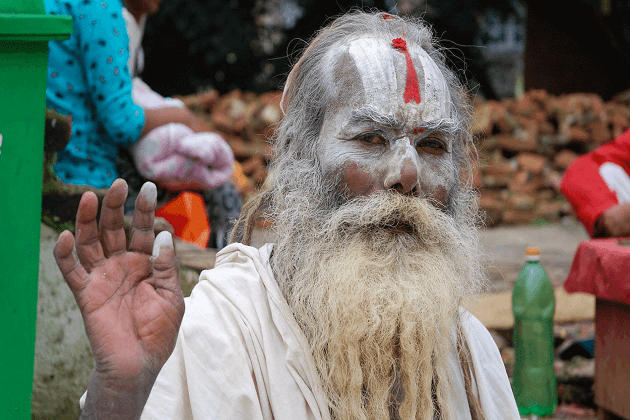 Food Etiquette
In Nepal, there is a caste system called 'ritual pollution' whereby food prepared by people in a lower caste will be refused by those from an upper caste. In fact, Westerners are considered as low caste; thus they should avoid touching any food unless they are sure purchasing or eat it.
Giving Traditions in Nepal
If you are a guest visiting a home, the host will surely bring you a gift of drink or food. It may be tea, fresh meal, boiled potato or tsampa, rakshi, and even more or less palatable. You have to always eat or drink some of it as it is how you show your respect and gratitude. One more thing you should know that the cup of drink may be re-filled; thus, if you are not really into it, just take a sip slowly.
Farewell Gifts
If you spend a large amount of time on a Nepali family or individual, when you move out, they may give you a gift – a kata. It is a silk scarf that is light white with auspicious symbols & patterns printed onto it. The Taka is placed around the neck and when you receive it, a 'Namaste' or 'Tashi Delek' is the must as you should say.
The Mani Stones & Other Holy Objects
On a journey of Nepal culture tours, you will pass through many different sacred objects such as Mani stone – a giant rock formed by a collection of smaller flat rocks which are carved or painted with mantras; stupa – a white dome-like structure; lines of large or small prayer wheels; a post with prayer flags (in bright color). All these objects must be treated with respect and have to be passed with them to your right.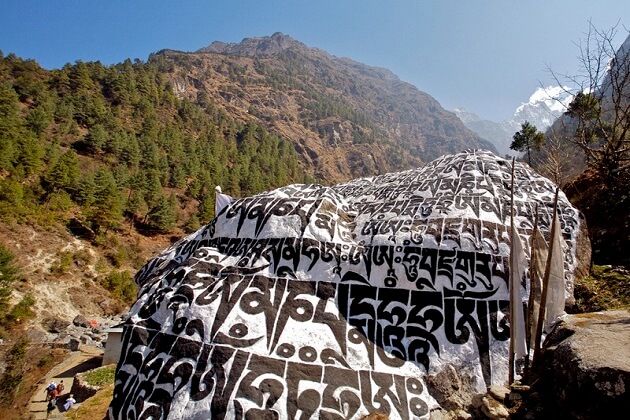 Temples and Sacred Sites
You always must remove your shoes before entering a gompa (small temple) or temple and remember that you are not allowed to take a photo inside the building. Otherwise, you can to do so if you ask a senior monk and he agrees with. When you head out the temple, leave a small donation in a collection box near the door.
Feet
According to the Nepal culture, shoes and feet are ritually considered unclean; thus, you should avoid stepping over someone who is sitting on the ground or sitting with them up in the air.
Haggling
Just like other countries, Nepal has a culture of haggling. If there is a price marked on a product, you certainly cannot negotiate on the price. However, if there is not, it's time for you to show off your haggling skill.
Tipping in Nepal
Tipping at any Nepal restaurants is customary. The bill always includes a service charge; hence, you have to check it before making a payment. For drivers, just simply round up the fare before setting off. For your guide and porter, tipping is not mandatory. However, if you like the service they brought to you, it is customary. The fact that many guides and porters' wages are made from tips.