The traffic in Nepal is nearly as popular and adventurous as Nepal mountains. Nepal traffic is crowded, complex and the common rule they have is the law of the jungle, which means there are almost no specific rules on roads of Nepal. However, joining the bustling traffic in Nepal is an interesting experience boosting adrenaline, especially after you already know some "underground rules" shared by locals and other experienced travelers. Enjoy the reading and survive your Nepal tours.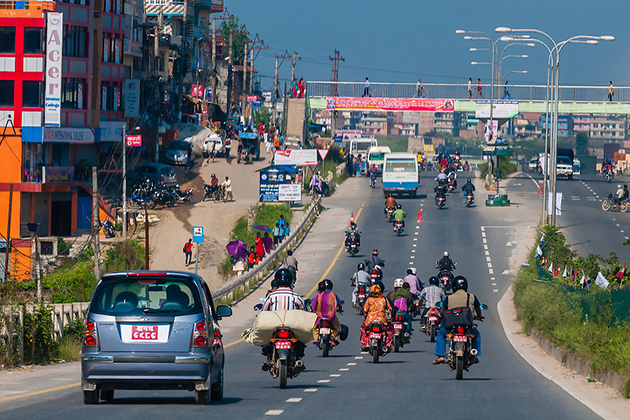 Traffic In Nepal: Must-know Facts
Although participating in Nepal traffic is pretty difficult, there is nothing impossible if you are brave and stable enough. In Nepal, they drive on the left-hand side of the road. Tourists should know this in order to choose the right side to walk. There are a huge number of cars, motorbikes, walkers going on the same small, narrow roads. There is almost no sidewalk and space for parking. Besides, sometimes you may get surprised when cows, monkeys, dogs or little ducks are walking right beside you and also want to cross the streets, or sometimes, while walking, you can see some people crawling on the roof. Everything has to go as quickly as possible, and everyone goes very fast.
What Do People Say About Nepal Traffic?
Traffic in Nepal seems to be too much for tourists to handle, but a traffic policeman in Nepal said that tourists shouldn't worry too much, which may ruin the Nepal trip. He said that tourists are rarely involved in accidents. A visitor, who has come to Nepal numerous times, said that he often brings an umbrella with him as he uses it as a stick for security. If a vehicle comes to close, he will hit it with the stick.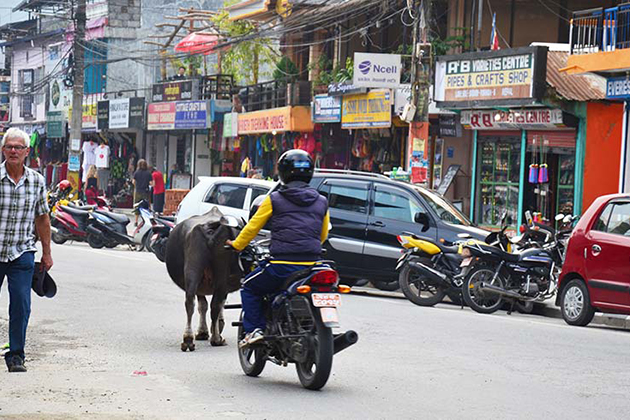 Efforts To Make Traffic In Nepal Better
Nepal government also tries to make traffic in Nepal better. They try to upgrade and widen the road, as well as try to ban traffic in some tourism districts. Since 2017, there has had Thamel walking street, where vehicles are banned. Deputy General of Police, Sarbendra Khanal said this would help reduce the traffic in Thamel and help visitors to move more easily.