Start/ End: Kathmandu – Kathmandu
Duration: 10 days/ 9 nights
Tour Route: Kathmandu – Chitwan– Pokhara– Phedi– Landruk – Ghandruk – Nyalpul – Pokhara – Kathmandu
Tour Categories: Nepal Trekking Tours
Tour Customize: Definitely! (Tell us your specific requirements)
Guides: Local Guide (English Speaking Guide, other languages depends on customer's request)
Brief Itinerary
Day 1: Arrival in Kathmandu
Day 2: Fly from Kathmandu to Chitwan
Day 3: Chitwan National Park (Optional Activities)
Day 4: Transfer from Chitwan to Pokhara
Day 5: Transfer from Pokhara to Phedi, Trek to Pothana
Day 6: Trek from Pothana to Landruk
Day 7: Trek from Landruk to Ghandruk
Day 8: Trek from Ghandruk to Nayapul, Transfer to Pokhara
Day 9: Fly from Pokhara to Kathmandu, Explore Kathmandu
Day 10: Kathmandu Departure
Day 1: Arrival in Kathmandu
Enjoy your flight and admire the stunning vista of Kathmandu Valley, magnificent view of Himalaya and green terraced valley floor as well. Upon arrival in Kathmandu, our representative will be waiting for you and warmly welcome you, then pick you up at your hotel.
Depending on your arrival time, you will have time to discover the city capital, Kathmandu by visiting several popular tourist attractions like Kathmandu Durbar Square, ancient temples, local restaurants, or even explore every city's narrow alleyways teeming with small shops.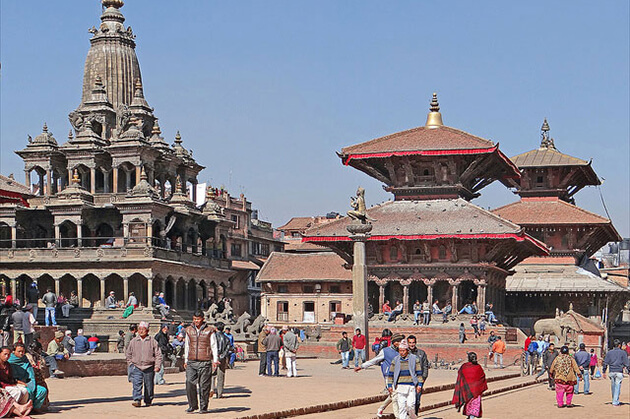 Later, enjoy your first meal in Thamel where converges a manifold of excellent restaurants offering both Western and Nepali cuisine. Then, if we still have time, visit the busiest bazaar, Asan Tole where you will find many things ranging from authentic display spice, fish, and greens. Show your talent as practicing some basic Nepali phrases and have a little chit-chat with adorable locals.
Overnight at the hotel.
Day 2: Fly from Kathmandu to Chitwan
Get up early, having breakfast, then go to the domestic airport to fly to the famous Terai region of Nepal where you will experience the totally different culture from which you did in Kathmandu. Discover 'Terai' (the name refers to the extensive plains in the southern part of Nepal), then gain an insight into the culture of this area.
Later, have lunch in your lodge where you are collected at the airport (unless you choose a flight in the afternoon) and a briefing about which activities available in the time you have left this afternoon and what's on the next day.
Overnight at the Jungle Villa Resort.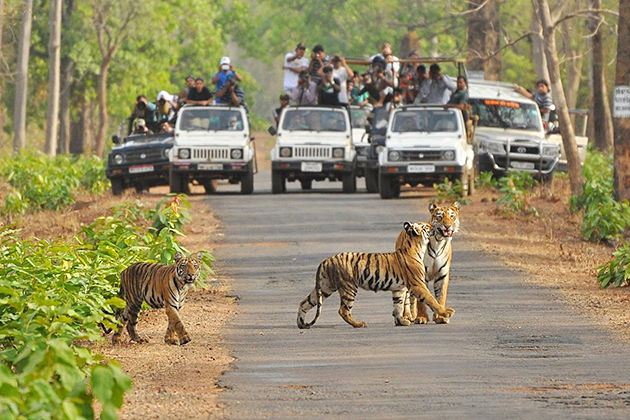 Day 3: Chitwan National Park (Optional Activities)
Start your third day with a healthy breakfast, you are now full of energy to have a full day of discovering the jungle with a selection of activities below to choose depending on where you will stay in tonight:
River safari on the Narayani River
You can choose to start your day of outing with a nature walk or bullock cart ride through the river forest, then marvel at the beautiful scenic floating down the river. Sitting on the boat, cruising on the wide expanse of the river, and immersing your soul in the wildlife, then how happy and relaxed you will be?
Jeep Safari
After meeting your naturalist for a jeep safari, now it is your time to get a taste of the jungle in the most comfort and convenience. If you have any questions, just ask without any hesitation because your naturalist- your guide will be extremely knowledgeable about everything here from animals to the history of the park. What's more, enjoying the safari, you will bump into the rich of wildlife here as there will be different species of deer, birds, monkeys, and other endangered ones such as one-horned rhinoceros. If you are lucky enough, you will see the Royal Bengal Tiger.
Elephant Safari
Enjoy a walk through the jungle to spot wildlife with the giant partners – elephants.
Elephant Bathing
Go to the river and you can swim and romp with these gentle giants in the clear river.
Canoe down the Rapti River
Marvel at crocodiles, river birdlife and Rhino or both. Head to the riverbanks and enjoy a short jungle walk to an elephant-breeding center.
Overnight at Jungle Villa Resort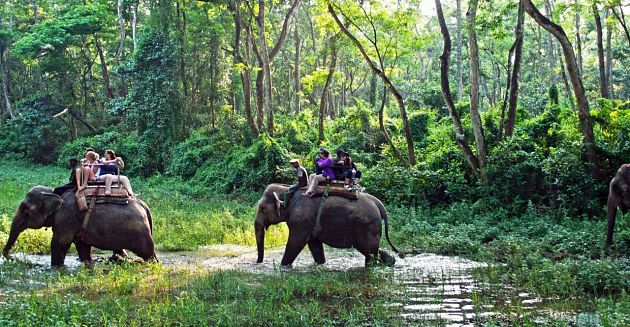 Day 4: Transfer from Chitwan to Pokhara
This day, we will drive to Pokhara. The rest of the day will be yours as you can do what you want.
Overnight at the hotel.
Driving distance: 100 miles
Duration: 6 – 7 hours (depending on road condition)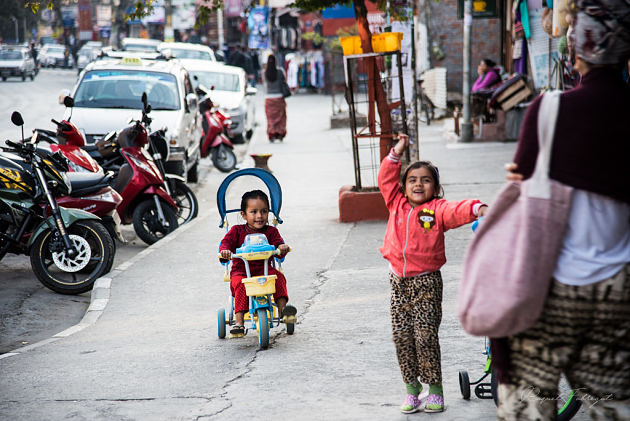 Day 5: Transfer from Pokhara to Phedi, Trek to Pothana
Your trek now begins.
You will be driven by a jeep to Phedi where the trek towards Pothana will begin. The trail you enjoy ascends through the forests of rhododendron, magnolia, oak, sandalwood, and the pine until the village, Dhampus, appears.
Continue the trail, from Dhampus, along with a stone-paved path through more forests and mossy trees. On reaching the small village of Pothana, there will be a range of trekker facilities such as shops, teahouse, and eateries. Relax and enjoy the rest of the day with the stunning view of the mountain.
Overnight at the teahouse.
Trekking Time: 4 – 5 hours
Distance: 3.5 miles (5.6 km)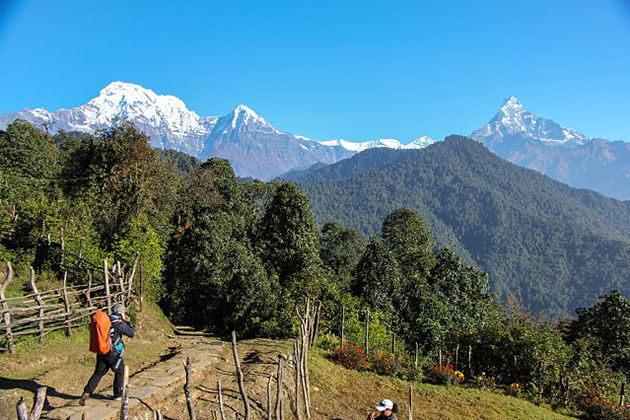 Day 6: Trek from Pothana to Landruk
Have breakfast, then continue on a trail toward Landruk via the ridge to Deurali. You will pass through the rhododendron forests where you can behold lots of exotic birds and friendly Gurung villages like Chandrakot, Tolka, and Bheri Kharka as well.
Until you reach to Landruk where you will overnight at, you will walk through the scattered forests and villages with traditional houses on the trail.
Overnight at the teahouse.
Trekking time: 2-3 hours
Distance: 4.5 miles (7 km)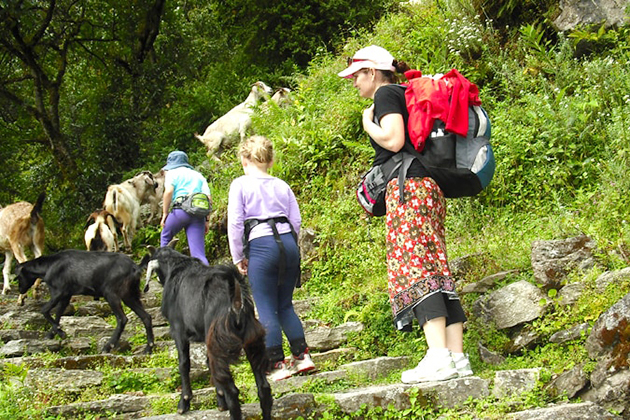 Day 7: Trek from Landruk to Ghandruk
Have breakfast and enjoy your last moment in the high altitude.
Then, stepping down towards the Modi Khola river for about 1 hour, followed by a steep ascent of 2-3 hours through scattered villages to Ghanku. Enjoy the beautiful vista of the Himalaya en route.
Finally, reaching to Ghandruk village, be ready to enjoy the landscapes and snow-capped peaks such as Gangapura, Machhauchhre, and Mt Annapurna.
If time is available, you can visit the ACAP (Annapurna Mountain Conservation Area) Project headquarters where converges the rich in biodiversity with over 1.000 species of fauna and flora.
Overnight at the teahouse.
Trekking time: 4-5 hours
Distance: 2.5 miles (4km)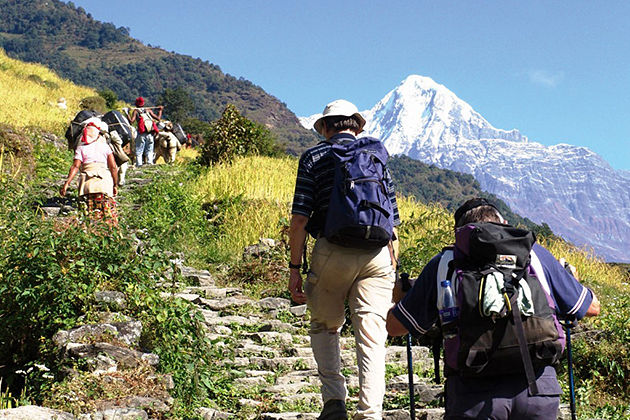 Day 8: Trek from Ghandruk to Nayapul, Transfer to Pokhara
Get up early and have breakfast in Ghandruk and keep enjoying your trek through small villages and the green rice field to reach to Nayapul. Upon arrival, a private jeed will be waiting for you to pick you up to Pokhara.
Overnight at the hotel.
Trekking time: 4 – 5 hours
Driving time: 1.5 hours
Distance: 5.3 miles (8.6 km)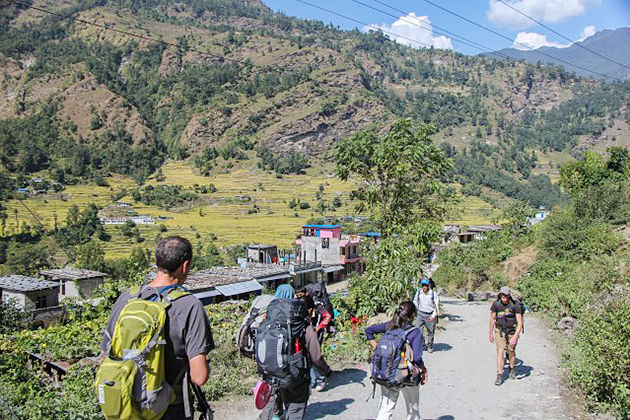 Day 9: Fly from Pokhara to Kathmandu, Explore Kathmandu
Have breakfast, then stroll around Pokhara, or relax in some of the Pokhara's cafeterias. Before 1.5 hours when you take a domestic flight to Kathmandu, you will be picked up from your hotel.
Arrive in Kathmandu, after settling in your hotel, the rest of the day will be yours. You can do what you want.
Later, there will be a selection of dishes ranging from Nepali, French, Vietnamese, and Middle Eastern meals in Kathmandu that you can choose to eat.
Overnight at the hotel.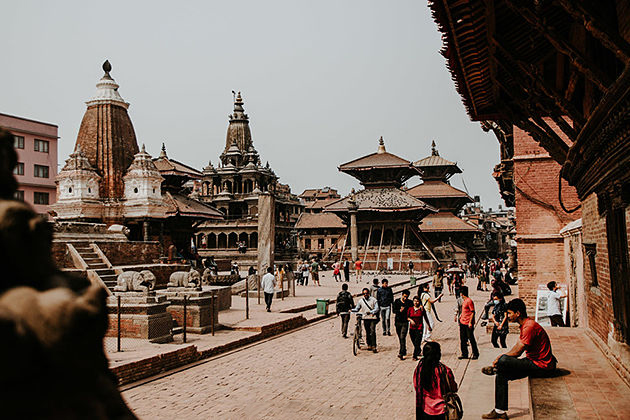 Day 10: Kathmandu Departure
Say goodbye to Nepal. Enjoy your last moments in Kathmandu with breakfast in a cafeteria. Stroll around the city the last time and our representative will meet you at the hotel then pick you up to the International Airport for your flight. Hope you enjoyed the trip and wish that we could serve you next time when it comes to other Nepal travel packages.