Duration: 10 Days/ 9 Nights
Start/ End: Kathmandu/ Kathmandu
Tour Route: Kathmandu – Pokhara – Pothana– Kokar – High Camp – Upper View Point – Siding Village – Pokhara – Kathmandu
Tour Category: Nepal Trekking Tours
Tour Customizable: Definitely! (Tell us your interest in the inquiry form – without any commitment)
Guides: Local Guide (English speaking guide or other languages as your demand)
Transportation: Private first-class-air-conditioned vehicles
Accommodation: Listed below or equivalent. Rooms with private bath or shower, hotel taxes, porterage, tips, and service charges.
Brief Itinerary
Day 01: Kathmandu Arrival
Day 02: Transfer to Pokhara
Day 03: Transfer to Phedi – Trek to Pothana
Day 04: Forest Camp at Kokar
Day 05: High Camp
Day 06: Upper View Point
Day 07: Siding Village
Day 08: Lumre – Transfer to Pokhara
Day 09: Pokhara – Kathmandu
Day 10: Kathmandu Departure
Day 01: Kathmandu Arrival
Upon arrival, our representative will be waiting to warmly welcome you. They then escort you to the hotel in Kathmandu. The rest of the day will be yours. Relax at leisure.
Day 02: Transfer to Pokhara
After breakfast, go to the bus station from where you will board the tourist bus to Pokhara. The stunning vista along the road trip is quite dramatic. You can see rivers as the bus drives along valleys, where the vast hills are cultivated into cascading rice terrace farms. Upon arrival, check into the hotel and relax at leisure. In the evening, you can opt to enjoy boating on the beautiful Phewa Lake.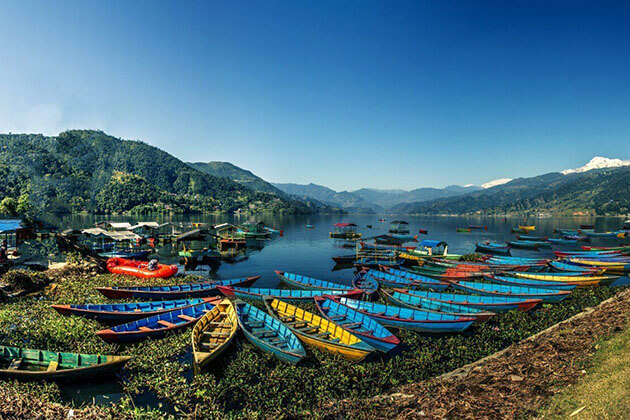 Day 03: Transfer to Phedi – Trek to Pothana
From Pokhara city, drive to Phedi and, our trek to Pothana will begin. The natural environment really takes full swing en route as the vibrant city is left behind & the thick natural groves & lush hamlets of woods will appear. You will stay in a tea house lodge for the first night in Pothana.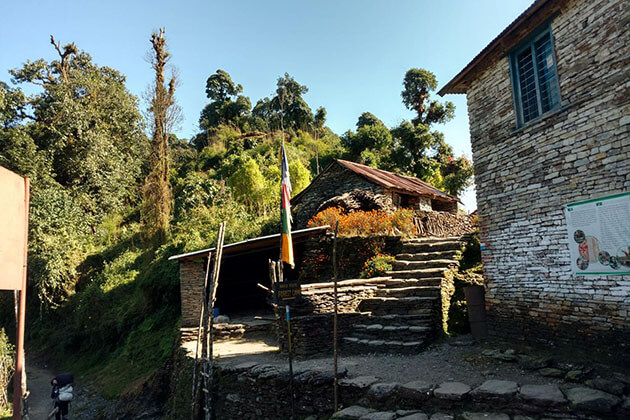 Day 04: Forest Camp at Kokar
From Pothana, we walk up to a place called Pitam Deurali. From here, we will turn away from the main Annapurna Sanctuary Trek route and instead continue along a quiet trail through a dense forest of oak, maple, and rhododendrons. Tonight, stay at one of the lodges in a clearing of the forest at Forest Camp aka Kokar as the locals call it. The lodges at Kokar are quite basic and no dining room, so meals will be taken in the kitchen with the owner; in small ways like this, this is more like a homestay and is a good opportunity to get to know the friendly family from Siding Village. Overnight Guesthouse, breakfast, lunch, and dinner included.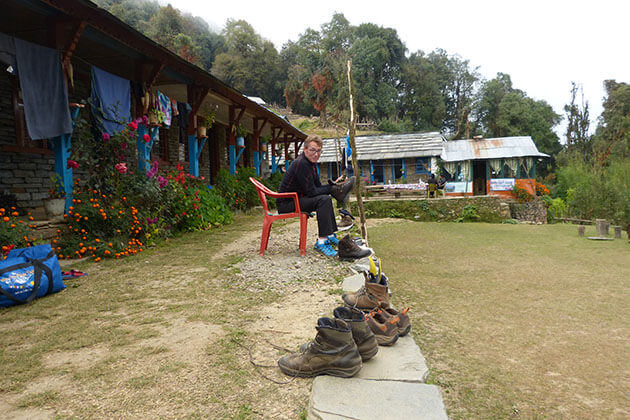 Day 05: High Camp
The trail continues from Forest Camp to High Camp through the dense forests. Ascending through the trails, we get to see rhododendrons and trees covered in moss and lichen. We'll have lunch at Low Camp and enjoy the view of Mr. Machhapuchhre. Ascending from the Low Camp, the trail takes us west towards the amazing views of Annapurna South and Hiunchuli Himal. We'll continue on the Mardi Himal ridge where we'll see the beautiful rhododendron bushes. We might also see the colorful Danphe along the trail. We gradually arrive at High camp where we'll see lodges bigger than at Low camp. The view from the lodge of Annapurna south, Hiunchuli Himal and Mt. Machhapuchhre is phenomenal.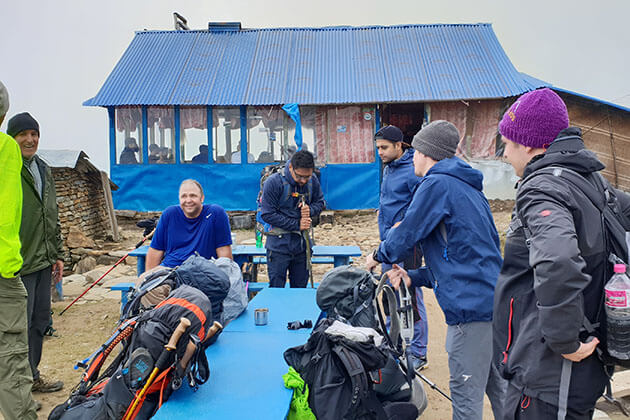 Day 06: Upper View Point
Today, get up early and view the sunrise amidst the mountains, then after an early breakfast, we walk up the ridge towards Mardi Himal. There is a well-established trail through the grass that also occasionally converges a couple of steeper sections. But the trail is not too challenging. Here, you can seek dzos (yak/ cow crossbreds) grazing in the pastures, as well as Danphe pheasant sputtering about the fields. The sheep and goats, in the summer, from lower villages, are brought up here to graze, so you will likely pass a number of herder's huts along the way. After three hours, you should reach the Upper Viewpoint at 4,200 meters; this is where one can look into the Annapurna Sanctuary. The panoramic view of the mountain massif of the Annapurna is also spectacular.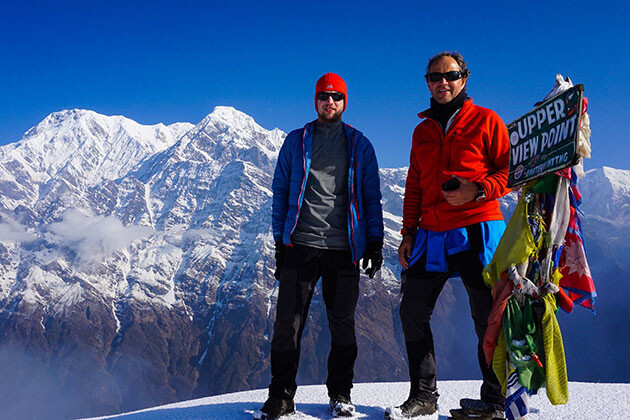 Day 07: Siding Village
Today, we will take a different route, completing a circuit. From the Low Camp, there is a trail going down to Siding village, and instead of going back down Mardi Himal back to Kokar, we will walk this path. Siding is a traditional Nepalese village and is located away from the busier tourist treks. It is great to stay at a home in Siding owned by the person running one of the lodges at Low Camp.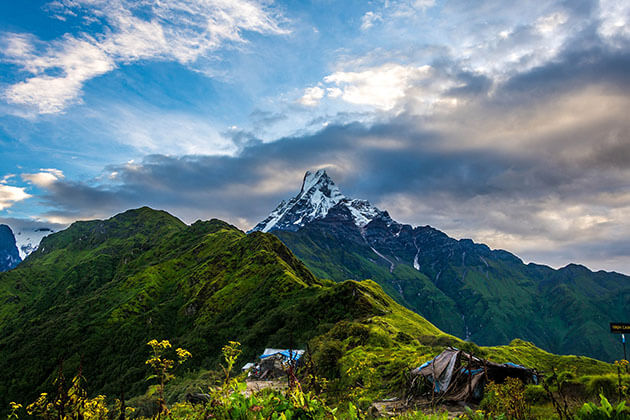 Day 08: Lumre – Transfer to Pokhara
From Siding, walk out to the road, heading towards Lumre. En route, you will pass the Kalimati and Ghalel villages. Kalimati is mainly a Brahmin village while Ghalel & Siding are both occupied by an ethnic mix of Brahmin & Gurung people. At Lumre, board on a jeep and drive back to Pokhara.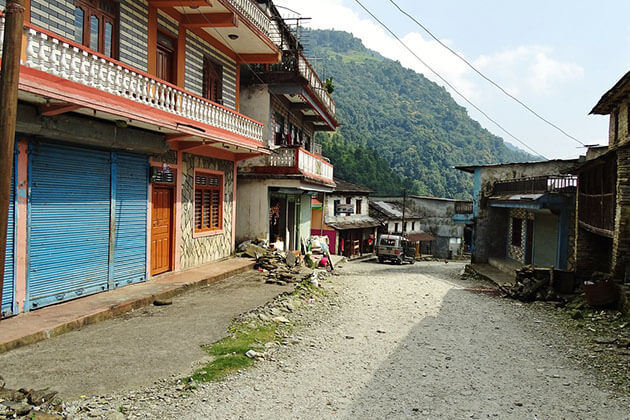 Day 09: Pokhara – Kathmandu
Today, you will be back in Kathmandu. Upon arrival, check into the hotel and relax at leisure.
Day 10: Kathmandu Departure
Farewell to you. Breakfast and morning at leisure until getting escorted to the airport for a flight coming home. The trip ends. Hope you enjoyed it and wish that when it comes to other Nepal tours, you will choose us.