This year, 2020, marks the 13th anniversary of Go Nepal Tours. More than 13 years working in Nepal tourism, we honorably to deliver thousands of discerning clients with fantastic trips, excellent services as well as unforgettable experiences. Go NepalTours constantly focuses on giving true values to our dearest clients. We clearly know what our clients expect the best in each journey; hence, we seriously challenge ourselves with the goal to bring experiences beyond the expectations of our clients, each and every time when they go with us.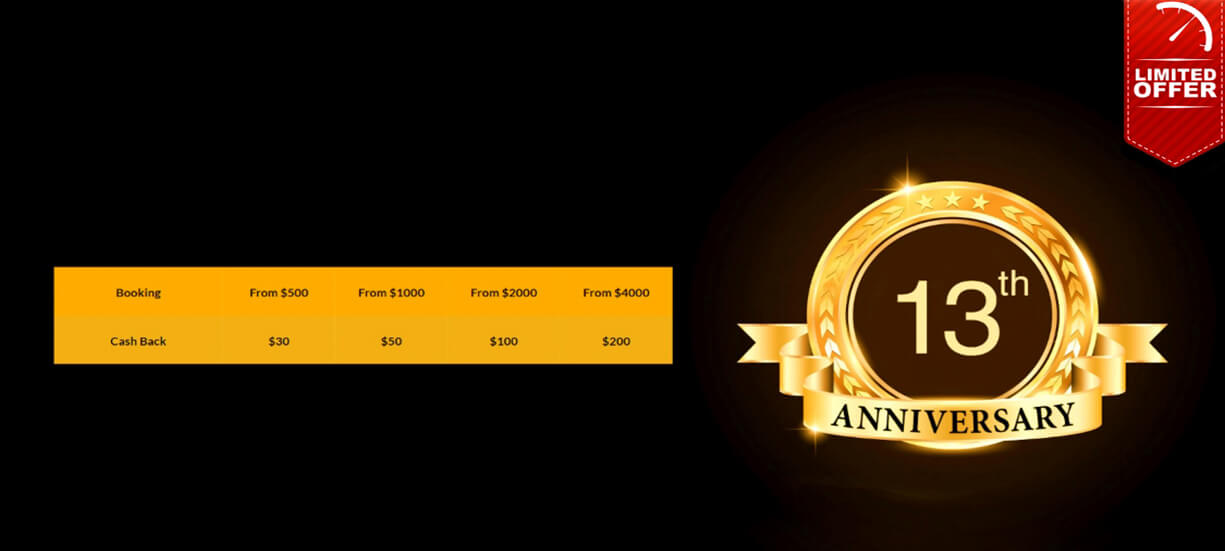 Special Promotion for Go Nepa Tours' 13th Birthday
At this special event, Go Nepal Tours would like to give you a special offer as a meaningful gift to express our dearest sincereness.
| | |
| --- | --- |
| Booking | Cash Back |
| From $500 | $30 |
| From $1000 | $50 |
| From $2000 | $100 |
| From $4000 | $200 |
Notes:
This special offer is valid for all bookings from now to February 2nd, 2020
This special offer can be deducted in the invoice
This special offer isn't combined with other existing promotions
It is Time to Spend for Journeys
The end of the year is a fantastic occasion for relaxing and revelry after months of working and progressing. Nepal should be considered a recommendation thanks to its mysterious things along with pristine yet, stunning attractions that have been waiting to be discovered. Once in Nepal, it is merely impossible for one to ignore its attractions owning their historic and unique character.
The Thank from Our Founders
It is our great honor to be the loyalty & diligent companion of your Nepal vacation. We know you have many choices for your vacation; however, choosing Go Nepal Tours will be absolutely your right decision. It's not simply expressed by words. It's done by the marvelous journeys for you to enjoy and memorable memories for you. From the bottom of our hearts, thank you so much!
Start Your Journeys Now