Pokhara is brimming with restaurants that cater to all tastes and travelers. From ayurvedic and vegan to Korean and Italian, deciding where to go can be the hardest part of your day in this relaxing lakeside town. So, what can be more pleasant and fantastic than immersing yourself in the super scrumptious Nepali cuisine while indulging in the peaceful and stunning ambiance of the city of thousand lakes? And, where you can find the best places to have a very good time to chill out? This dining guide is here to help you find some when it comes to exhilarating Nepal tours.
Restaurants in Pokhara – Best Places for Breakfast
The Juicery
The Juicery Café serves cold-pressed juices and smoothies using housemate soy, coconut, and hemp milk for around $2 each (Summer Breeze, a mix of watermelon, mint, lemon, and pomegranate, is immensely refreshing). It also has açaí and matcha smoothie bowls, and an incredibly delicious brunch menu featuring veggie- and fruit-packed sandwiches, salads, porridges, and egg dishes. There are only a few tables, so get there early to grab a seat if you're planning to eat there. Otherwise, you can order your beverage of choice to go.
Address: Baidam Road (near Freedom Café), North Lakeside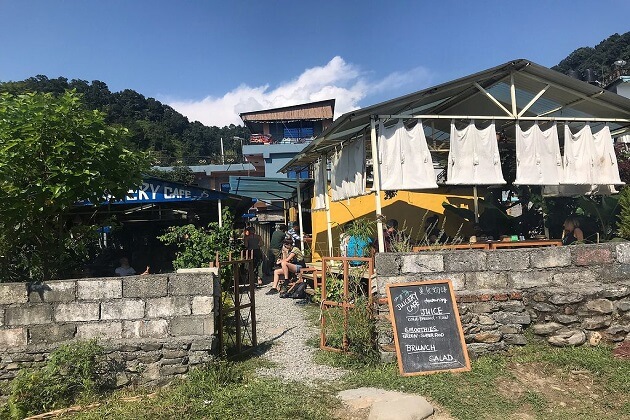 Sun Welcome
Sun Welcome is a no-frills restaurant that serves the "best cheap meal" and the "best cheap and tasty breakfast" according to two different locals. The food is fresh and the owners are friendly. Bring a book or laptop with you, or better yet, strike up a conversation with fellow patrons.
Address: Baidam Road, North Lakeside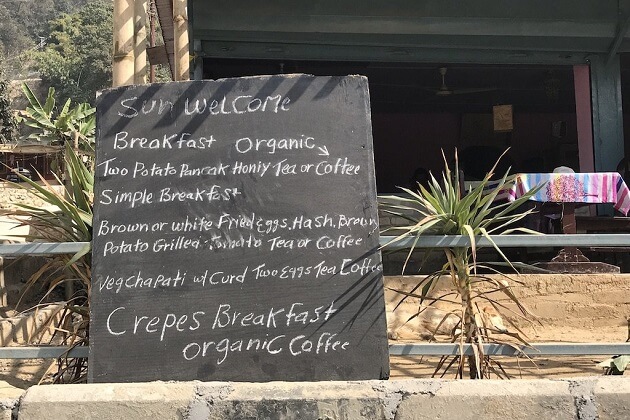 Old Mike's Kitchen
Old Mike's Kitchen is famous for both its idyllic lakeside location and hearty breakfasts, which hits the spot after a trek. Similar to a couple of other restaurants on this list, it has an organic vegetable garden. Try the nachos, burritos, quesadillas, and enchiladas.
Address: Hotel Fewa, 17 Pardi, Central Lakeside (next to the Kayak Shack by Paddle Nepal)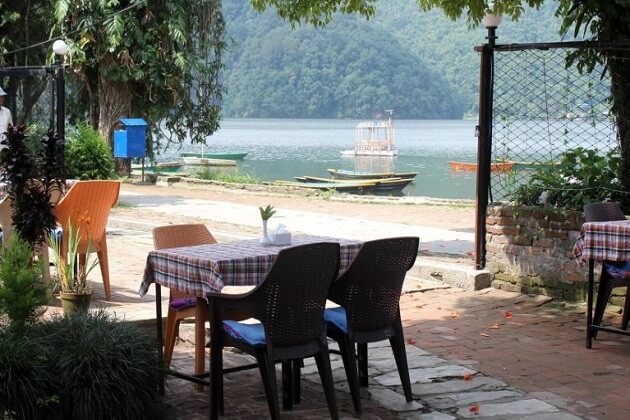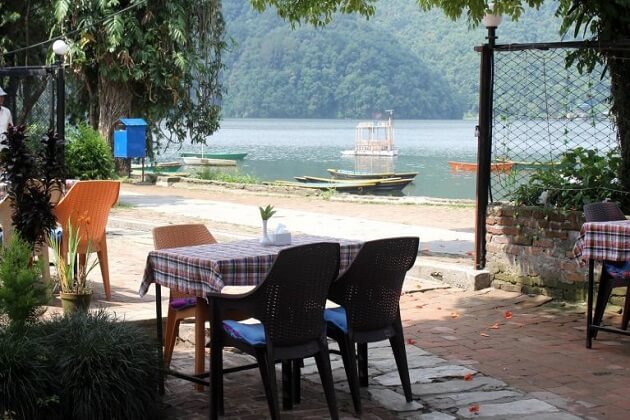 Pokhara Restaurants – Top Places for a Perfect Lunch
Fresh Elements
Relatively new to Pokhara's eclectic dining scene, Fresh Elements is a crowdpleaser. Fresh and welcoming, the restaurant, which is located below a lovely spa called Middle Path Spa (also recommended), has a wide-ranging menu with lots of international options. Recline in one of the cushioned wooden chairs inside (once you sit down you won't want to get up), or find a nice spot in the outdoor courtyard from which you can dine. The quiet time between meals is also perfect for writing postcards and catching up on social media as you sip on a coffee or avocado smoothie (read: the Wifi is good here).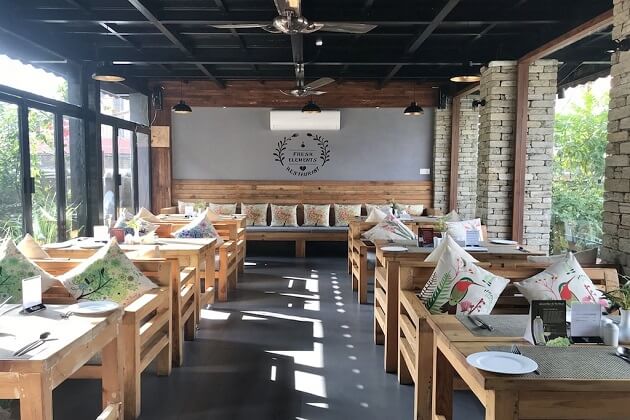 Try the fish curry, anything from the grill, coffee drinks, smoothies, and the great selection of European wines by the glass and bottle sourced by Kathmandu-based Vesper House.
Address: Middle Path Street, Central Lakeside
Krishna's Kitchen
If you're craving pad thai, or cuisine with a little heat, head to Krishna's Kitchen in North Lakeside, a superb Thai restaurant with a mouthwatering menu (there's papaya salad, various curries, tom yam soup, galangal chicken soup, rice and noodle dishes, plus homemade chocolate mousse for dessert, among many other dishes). Krishna's quiet spot on Khapaundi Cove also comes with a little entertainment: from the garden dining area, you can watch paragliders make their final descent of the day onto the shores of Phewa Lake.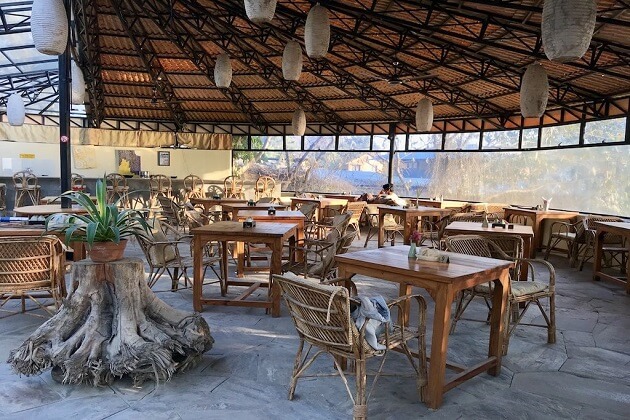 Topping this is the restaurant's bathrooms — the most unique in Pokhara, if not Nepal — and fresh drinking water, which is sourced from the mountain behind (and is of course purified before being served). Spoil yourself and ask for a glass with ice.
Address: Khapaundi Cove, Sarangkot-2 (North Lakeside en route to Sarangkot)
Krazy Gecko Bar & Rest
A visit to Pokhara would not be complete without checking out Krazy Gecko Bar & Rest, which is perhaps this author's favorite spot in Pokhara. Down a short pathway off the main road in North Lakeside, Krazy Gecko is a very cool, secluded hangout that serves food and drinks. The best time to go is during the day — there's even a rope swing for plunging into the lake! — but the evenings are beautiful and romantic. It's a surprise there aren't more places like this.
Address: Baidam Road, North Lakeside (down a long driveway, near the Waterfront Hotel)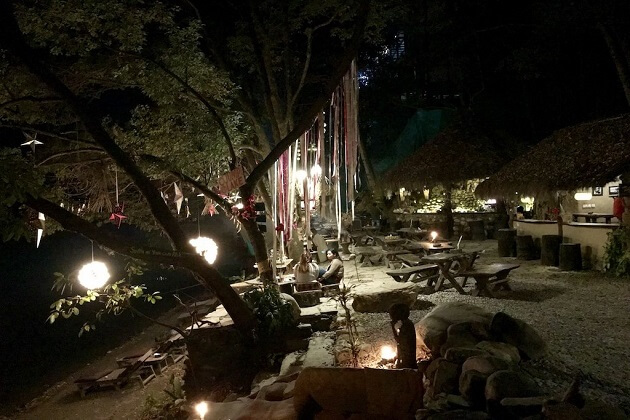 Bajeko Macha Mahal
Bajeko Maccha Mahal, aka Bajeko Fish Palace, is a hole-in-the-wall ayurvedic fish restaurant that is totally worth the visit, particularly if you're craving fresh vegetables. The entire menu is free of "maida (white flour), white sugar, and Ajinomoto (MSG)," and is even categorized by the presence of oil (or lack thereof), i.e. "zero oil recipes," "less oily fish recipes," and "oily recipes".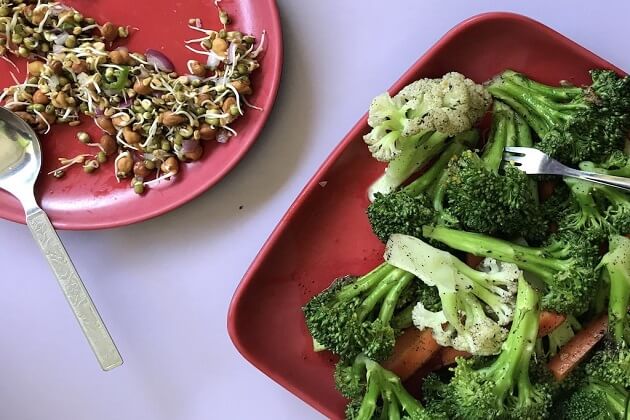 There are a number of interesting and unusual dishes that you won't typically find in Nepali restaurants, such as an algae fish soup, ayurvedic herb soup, sprouted beans tossed with black salt, lemon and herbs, and so on. It's easy to order too much, but at least everything you're eating is good for you. Open for lunch.
(If you like the sound of this, check out Ayurvedico Café, which opened in late February 2018, and is located on Baidam Road, North Lakeside.)
Address: Bishal Marg (off of Nagar Chowk), Pokhara-7 (about a 25-minute walk inland from Central Lakeside; easier to reach by cab or motorbike)
Fantastic Pokhara Restaurants for Dinner
Caffé Concerto
A meal at Caffè Concerto will have you thinking you're on Lago di Pokhara. Enjoy the rustic vibe and outdoor fireplace as you give into healthy indulgences like cioccolata calda at the best Italian restaurant in Pokhara.
Caffé Concerto sources its organic lettuces and vegetables from its own garden and even makes homemade gelato! It also has great thin-crust pizzas and even better pasta. While it's Italian owned, the chef is Nepali (not to be confused with Napoli) and has been working there for over 13 years.
Address: Lakeside Road (at the corner of Durbar Marg), Central Lakeside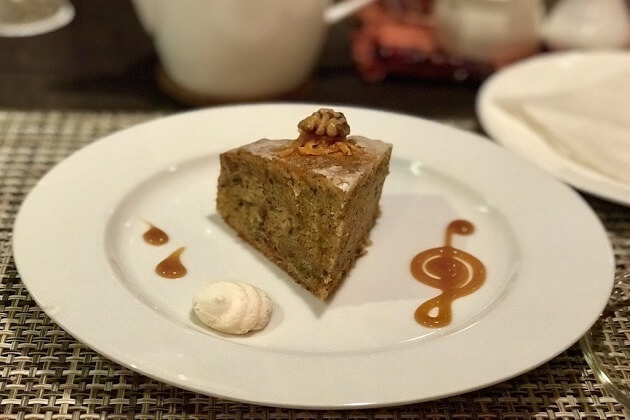 Moondance
Like Caffè Concerto, Moondance sources its food from its own farm and has remained of the most popular restaurants in Lakeside since its establishment in 1991. The family-run eatery is passionate about freshness and doesn't use preservatives or additives. On the menu, you'll find a bit of everything, from tandoori to burgers, pizzas and even large salads. But what sets this place apart are its "Superfood Specialties," which all feature stinging nettle. Try the pasta with nettle pesto, when in season.
Address: Barahi Chowk, Central Lakeside (across from V.N.Y. Park)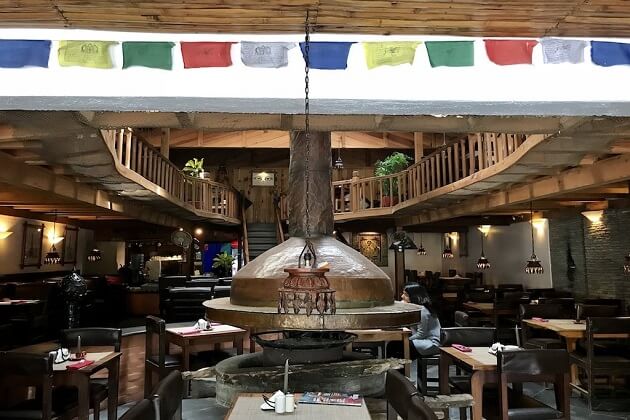 Sherpa Kitchen
Newcomer Sherpa Kitchen is the best Sherpa restaurant in town (you can tell by all the Sherpa guides who go there). The restaurant has traditional dishes, such as finger-food like momos, thupkas, and more. Inside, check out the contemporary Tibetan art that hangs on the wall from the comforts of your booth.
Address: Pahari Marg, Central Lakeside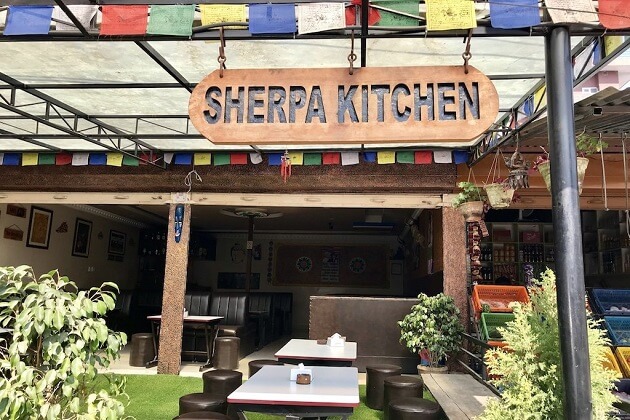 El Bocaíto Español
Pokhara's only Spanish-Nepali restaurant, El Bocaíto Español is co-owned by a woman from Alicante and serves traditional Spanish dishes like tapas, bocadillos, and paella (the paella requires one hour to make and is for a minimum of two people, so best to call or stop by in advance) and drinks like sangria as well as wine from Spain — in addition to Nepali counterparts. While the two-story restaurant is very charming, it's hard to beat the lakeside dining. The restaurant opens Tuesday through Sunday from 10 am to 8 pm.
Address: Baidam Road, North Lakeside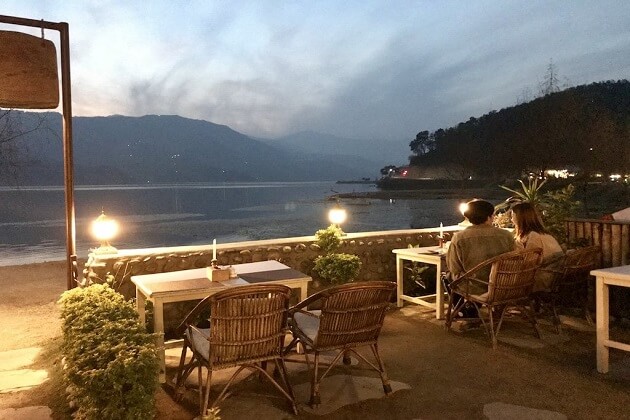 Good Pokhara Restaurants for Dessert
Metro Crepes
Undoubtedly the best creperie in Pokhara. Both sweet and savory options are available at Metro Crepes, which is located down the alley right next to Adams Tours & Travels. In addition to crepes, the restaurant serves coffees, ice cream, slushies and has free Wifi.
Adress: 42 Devistan Path, Central Lakeside