Traveling to an entirely new country, besides discovering its culture & tradition, its scenics; then, how can we forget to experience all of the amazing taste of the country's traditional food. Well, like every country all over the world, Nepal, an incredible country, is not an exception to do things like that. If you ask any Nepali what exact their favorite food is, you will get a beautiful smile from them, and 'dal bhat', absolutely. However, is that all? Not yet. There are plenty of other scrumptious traditional Nepali dishes that can make your day while indulging yourself in Nepal tours. So, what are we waiting for? Let see what the best traditional food in Nepal really is.
Top 5 Awesome Nepal Food to Try
Dal bhat
Why dal bhat? Yeah, as I said above, it is a traditional food of all Nepalis' choices and we cannot complete this Nepali food list without it. Its outside look shows it is just a rice & lentils meal; however, it is so much more than that. The lentil curry itself is a combination of varied seasonal vegetable and meat (spinach, mushroom, potato, chicken, buffalo, and so on), as well as salad, pickles, papad, and curd. I will not write about it anymore. If I do not stop, I cannot resist myself to book a Nepal tour itinerary to try it now.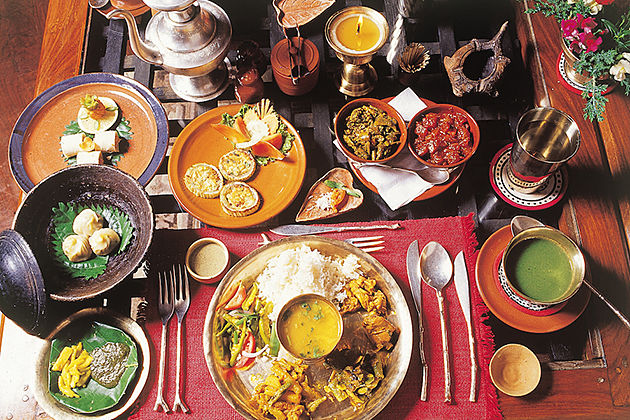 Thukpa
This is a mouth-watering noodle dish that you once decide to grab a bit, you can stop eat it. Whoever asks me what makes this dish different from other soup dishes, absolutely, I will tell them about its broth. The meat broth is well seasoned and makes from different kinds of meat including yak, goat, lamb, and chicken. What's more, the meat broth is simmered overnight; hence, it's far to easy to taste all of the quintessences of the dish.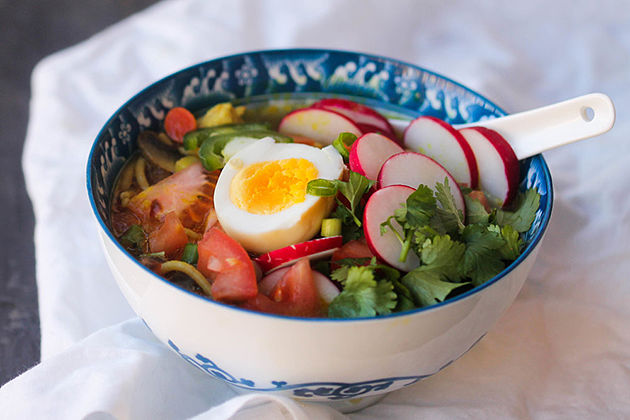 Gorkhali Lamb
Lamb, in Nepal, is one of the most desired meats whenever there is any special events or festivals occurring. The dish, Gorkhali Lamb, is made of lamb and slow-cooked in curry with several vegetables like potatoes, onions; then, it is taken out, grilled and seasoned with spicy chili mix. Finally, it is taken back to the curry and cooked a bit more. You will eat the dish with rice and roti and feel satisfied with it.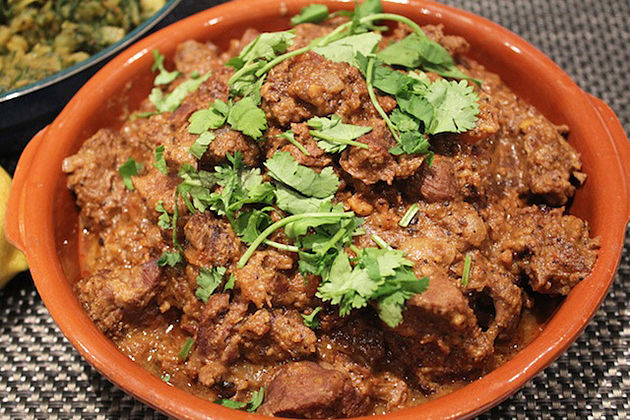 Juju Dhau
This sweetened custard-like yogurt, I believe, is made of buffalo's milk; hence, its nutrition is so much richer than normal cow's milk one. The sweetness of Juju Dhau is not from sugar, in fact, it comes from khuwa and spices like cloves, cardamom, cashew nuts, and coconut. Whenever you eat it, you can feel the piece of creamy curdled milk melting in your mouth, then its flavor still remains even though it is welcomed in your belly. Do not miss it, try to eat it if you can.
Chiura
It is a rice dish, but you will taste it in another form. You are wondering how? The rice is beaten flat and dried to keep its fresh remains longer. That's all. The simple dish and the way to eat it is simple too. You just immerse yourself in its taste with very wet curries; then the flat beaten rice will swell up right after it is welcomed in your belly. Try it and you will realize how full you are after eating chiura.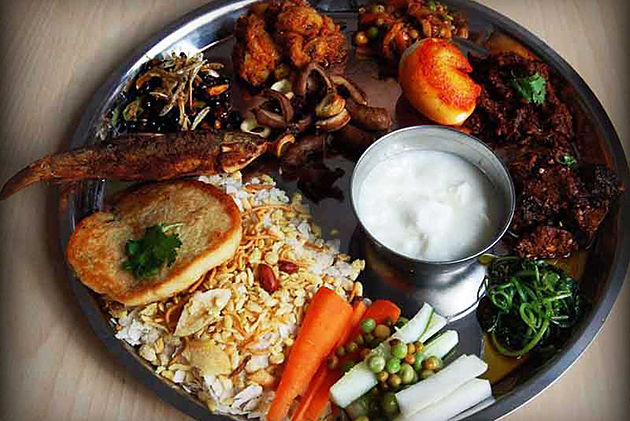 Top 5 Flour-based Nepal Food
Momo
Like Bhutan, this beautiful country itself also has momo, delicious finger food. This Nepal traditional food is filled with steamed vegetable or meat, wrapped in the flour-based, then steamed or fried. Do not forget to try momo with spicy soup as you will get something awesome whenever you grab a bite.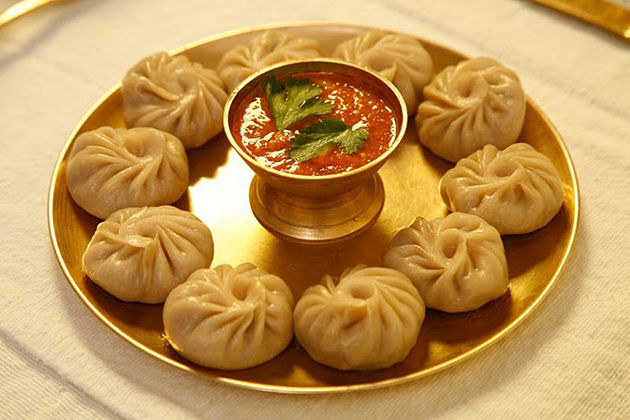 Sel Roti
This dish, somehow, let me or even you think about donut; however, much less sweet than the donut. Crunchy, puffy, soft, and a little bit sweet are what you will feel when you taste it – the Nepal traditional food. You can easily find it from street vendors and taste it right after being deep-fried to feel fresh and hot. Commonly, the locals tend to make it during celebrations and festivals.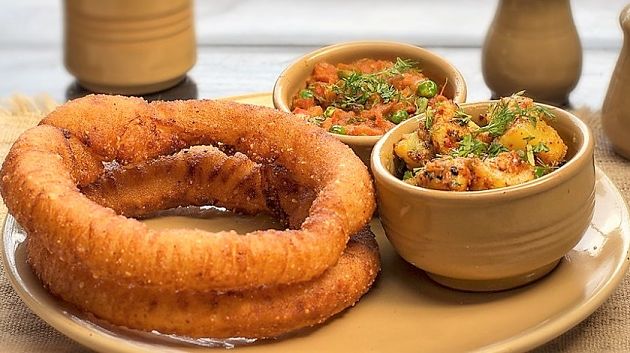 Yomari
It is rare to find a dish that has its own festival in the world; however, there is a special dish, I mean, a traditional dish of Nepal that has done the amazing thing like that, Yomari Punhi, definitely it is. The fish-shaped dumplings, more likely the leaf-shaped ones in some way, are made and eaten in December to mark the annual event, the Newari festivals or simply it is the end of the rice harvest season.
Perhaps, every traditional dish in Nepal always made of simple ingredients as the yomari is a perfect combination of rice flour and stuffed either with sweet molasses or coconut mixture. To find yomari, the Yomari Punhi festival is the best time for you to come and get into it. Besides, the dish itself is available all year round at the Village of Café on Pulchowk in Patan and in the bakery close to Bhat Bhateni Supermarket.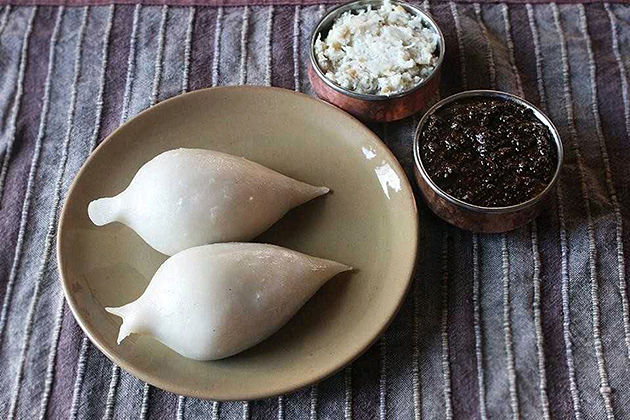 Bara
This is a traditional food of Newari, and it looks like a pancake of the West. In fact, yes it is. Bara is made of the mixture of meat and egg and has a beautiful golden brown color when it completely cooked. It is healthy, hygienic, and popular food in Nepal.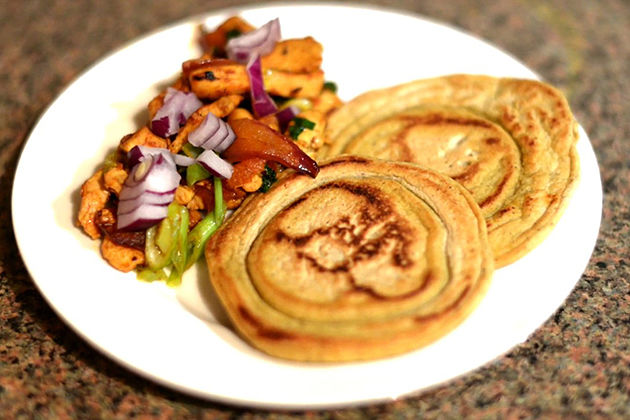 Chatamari
This dish is very popular in the Kathmandu Valley, and known as Nepali pizza; however, just because of its sort of round, I guess. Thinner than Bara, the cake itself is cooked with a manifold of flavorful toppings like onions, fresh coriander, minced meat, egg, chilis, and spices. Well, I would rather call it Nepali crepe than a pizza.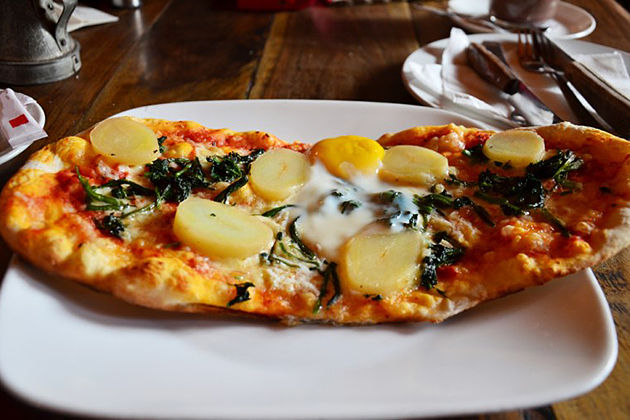 Nepalese Food and Indian Food
Nepali Cuisine or India Nepali Cuisine
Since there have been lots of question between Nepal cuisine and India ones, there two countries like is there any difference between Nepalese food and Indian Food? Well, If you want, I would like to answer this stuff for you.
The Nepalese food does share some similarities with Indian one; however, each cuisine has its own unique and the spice mix is totally different. The biggest difference I noticed was that Nepalese food was less spicy and not overly hot. Chilly is not a superstar as it is just added to vegetables, or meat to complement the flavor of dishes. One more thing that I realized from my Nepal tour was that the Nepalese food was much healthier than the Indian one as the cream was not used while cooking Nepal food. Nepalese cooking does use gravy sauce instead, which expresses a thinner and less heavy texture to the dish.
Well, overall, if I had to say something about Nepalese food, it must be delicious and far too different from Indian food.