Nepal Jungle Safari | Nepal Wildlife Safari Tours 2023 – 2024
Everyone loves nature and I know you – our future clients are not exceptions.  Besides being famous for trekking and mountain activities, Nepal is rich in bio-diversity making the country ideal for an eco-tourism destination and that is the reason why a Nepal jungle safari is the well-worth activity you should experience there. Enjoy Nepal safari tours, there will be your chance to take one step closer to the wildlife and natural habitat where covered by sal forest with a great balanced mixture of grassland, savannah, and riverine forest. Sitting on the jeep and passing through the trail, you will bump into a Bengal tiger chasing the prey, one-horned rhino drinking water along the riverbank, or witnessing a monkey feeding its adorable little baby.
So now, all these things above are all in our Nepal Jungle Safari Tours below, let take a look at them an find your best one. If you have your own interest in safari in Nepal, just feel free to contact us and our tailor-made experts will customize the best Nepal safari tours for you to indulge in your Nepal vacation.
---
Best Things to Do and See in Nepal Jungle Safari Tours
Witness Crocodiles, Elephants, Rhinos in the Chitwan National Park
Besides marveling at the stunning scenery of nature, there is a huge number of animals will be waiting to welcome you. Now, in Chitwan National Park, there are over 600 of the enormous fauna in the park. In your safari trip in Nepal, you are supposed to see at least one – about me, I saw 10 on my last jungle safari in Nepal. All of them were so cute and I was very excited to see them because I had been able to admire wildlife animals via my smartphone and computer before. In addition, ways to go on safari in Chitwan are various, for example, you can go on foot, by jeep, ox-cart, or elephant back. But, from my point of view, I recommend that instead of enjoying your safari trip on ox-cart or elephant back, you should choose high on your trip via a jeep because riding on elephant back or ox cart is a bit horrible as I can almost see the suffering on their faces. So, if you don't mind, please avoid it.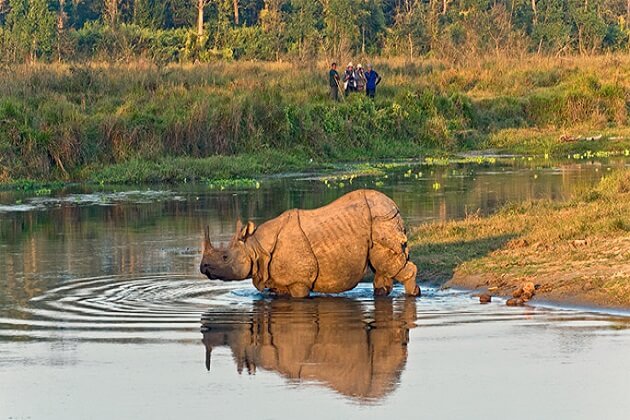 Tiger Tops Tharu Lodge
The Tiger Tharu Lodge, on the edge of Chitwan, offers travelers the very best blend of the tranquility yet charming wilderness retreat, fused with local cultural encounters. A short ride on a jeep through the jungle with beautiful views of the wildlife will take you to the doors of the lodge. Once there, you can experience both an insight into Nepali village life and nature inside the lodge. This lodge, in my opinion, is the best accommodation for you to stay on your Nepal jungle safari tours.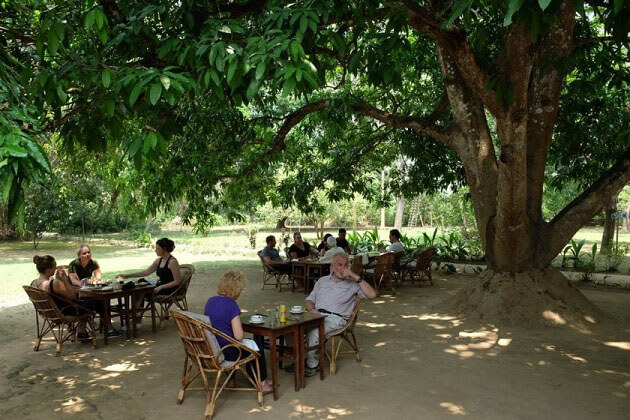 Barauli Community Homestay
Another accommodation you should spend on. I still remember vividly that on my jungle safari in Nepal, I was greeted with a traditional Barauli welcome including songs and a stick dance performed by the community members in traditional Tharu costumes. And honestly, that thing really stole my heart. About the property, everything you need is all here from clean rooms, good food to stunning vibes.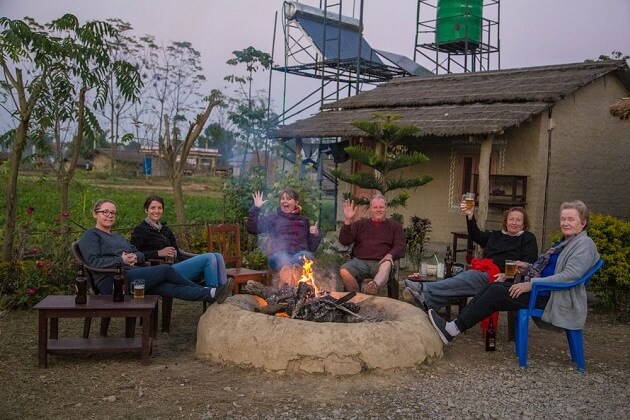 Bardia National Park
Bardia National Park welcomes fewer visitors than Chitwan yet is still an awesome place where you definitely get fresh air and amazing view and most importantly, you will have a chance to spot the Royal Bengal Tigers even though they live in various parts of Nepal and are pretty elusive. Visiting the Bardia National Park, it's also your opportunity to bump into Nepali people there. Do not miss to head to the national park for a perfect jungle safari in Nepal.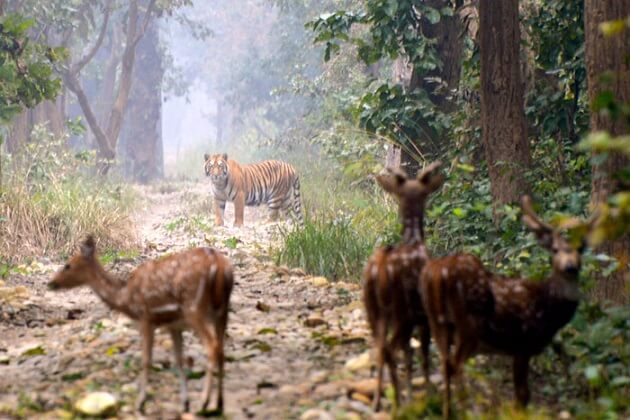 Enjoy Bird Watching in Koshi Tappu Wildlife Reserve
This is a good place for those who in love with the bird as the wetland region houses over 400 bird species ranging from storks, ducks, geese, eagles, terns, kingfishers, lapwings, and so on. Once there, you can choose between luxury and quite basic tented camps that have been specifically set up in the area for bird watchers. There are so many more things waiting for you to experience so, don't hesitate and go with us to high on the best Nepal Jungle Safari Tours.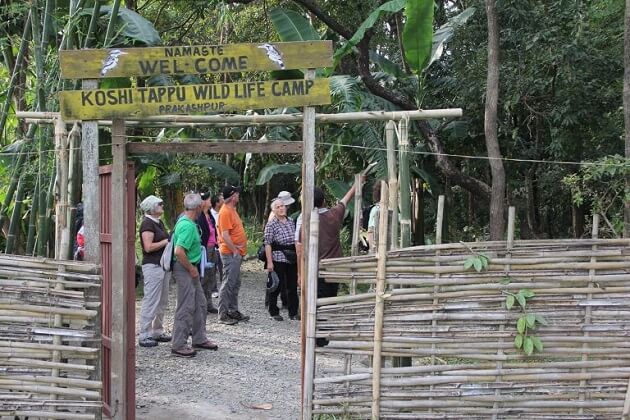 Nepal Jungle Safari Tours | Best Time to Visit
Famous for the rich in fauna & flora from the Terai and the Himalayan region, it is hard for tourists to deny to be attracted by Nepal – an incredible country situated in Southeast Asia. So, what is the best time to enjoy Nepal jungle safari? What is their best condition? Let Go Nepal Tours help you to answer these questions.
Best Season for Nepal Jungle Safari Tours
Autumn Season
Generally, Autumn is the best time for you to travel to almost anywhere in the world and Nepal is not an exception, especially if you want to get into Nepal wildlife tours. The climate during this time is dry and less humid in the air. In Fall, the visibility is totally clear; thus you will a great opportunity to spot the elusive Bengal Tiger. The journey can be so much more interesting when you can witness other animals such as rhinoceros, elephants, and varied bird species. If you want to enjoy Nepal jungle safari, don't miss the Autumn season at any cost.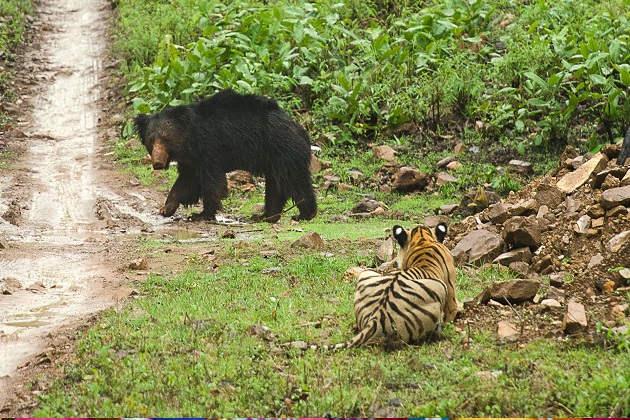 Nepal Jungle Safari Tours - Good Season to Go
Winter and Spring Seasons
Although Winter ad Spring is good for jungle safari in Nepal yet, they are not as good as the autumn season. In winter, the jungles are definitely cold and all animals hibernate underground or at their shelter. Spring season is suitable for safari but showers can occur suddenly making difficulty in jungles.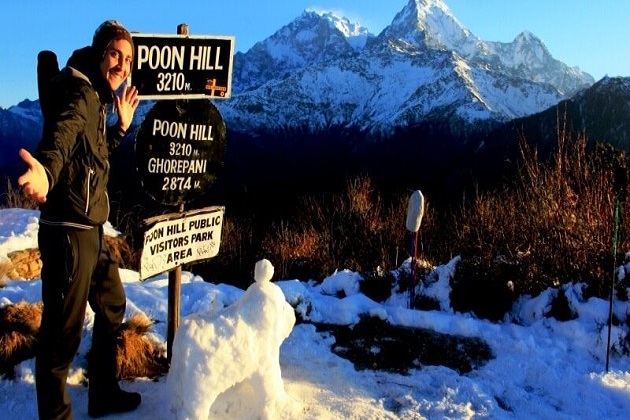 Worst Season to Enjoy Nepal Jungle Safari Tours
Summer Season
It's hard for me to say but, summer is the very worst season to get into Jungle safari in Nepal in the jungles of Chitwan as well as Bardia because of the Southern Terai region, during this time, witnesses constant rainfall. Although the forests will surely be much greener due to the rain; however, the animals will find their place to shelter from the rain. Also, the humidity makes your chance to see the Bengal Tigers and Bengal Floricans invisible. For all these reasons, summer is not the best time to enjoy a safari in Nepal.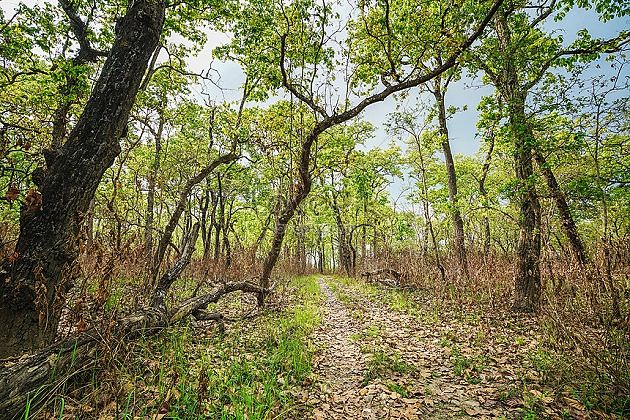 Tips for Nepal Jungle Safari – Things to Do for the Best Jungle Safari Tours in Nepal
What should you do to have the very best Jungle safari tours in Nepal? Honestly, a jungle safari is not just an ordinary tour leading you through the jungle to witness the wildlife in national parks. It is an escaping trip from the fast pace of modern life allowing you to take one step closer to the nature that you've forgotten so long. Base on my knowledge, there will be several top tips that I want to share with you. I hope they would be useful for you on your way of exploring nature.
Remember – Dress for Comfort Not for Fashion
The fact that no matter how nice the clothes you put on are, no one cares about that. I really don't mind but it is true. When you enjoy Nepal jungle safari tours, your guides will all advise you to put on the dark or neutral clothing for good reason. The purpose of the journey is blending into the nature surrounding as much as possible without bringing any attention to yourself. If you enjoy a jungle safari in Winter (Nov – Feb) when the icy mist hangs in the air long into days, warm jackets and a good set of thermals are highly recommended, especially for the night time in the very large national park.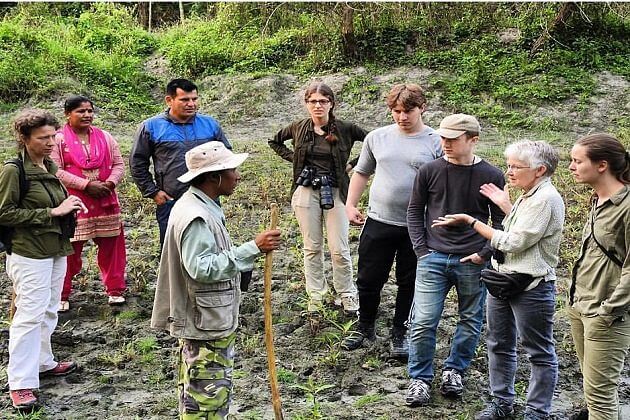 During the monsoon or after that period (Jul – Sep) keep the word 'NO SHORT' in your mind. For what? Well, because this is the time of prosperity of leeches. I am sure that you don't want to see there are leeches on your legs. So, just wear long loose trousers for enjoying a perfect Nepal jungle safari tour. But if you get leeched, you can ask your guide to take it away.
Use Your Own Water Bottle
This action not only brings benefit your you but also for the environment as well. I believe that we all want to be more environmentally friendly so that when you use your own water bottle (no plastic bottle), you absolutely do something nice for the Nepal environment because, in Nepal, there are very few recycling options. Furthermore, bringing your own water bottle can best cut down the costs for your jungle safari tours in Nepal. Interesting enough that most hotels and guesthouses all have drinking water available to refill your bottle with.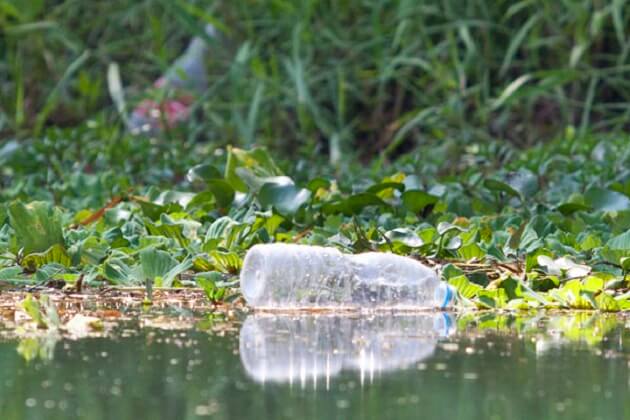 Listen to Your Guide
It is not easy to be a guide and your jungle safari guides must be highly experienced. They are not just ordinary guides, they are qualified naturalists and each of them has a huge passion and dedication to preservation as well as conservation of the environment during the jungle safari. Also, they take pride in their work and always care about Nepal's big five on every safari. They want you to respect the environmental habitat and all creatures. It means that if a rhino or other animal species don't want you around, your guide will let you know.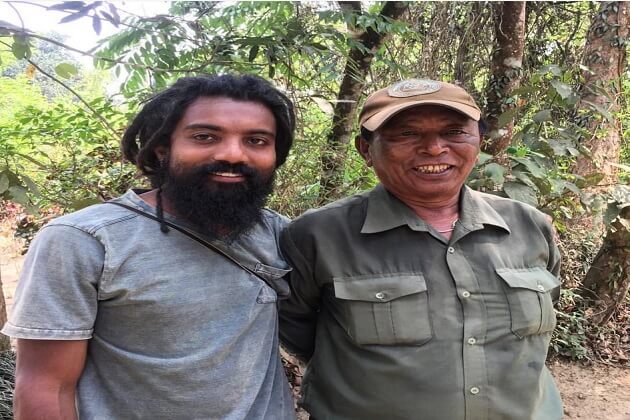 Keep Your Camera Activating
Living in the modern age, you will hate yourself if you don't have a good camera when you enjoy jungle safari tours in Nepal. It is no doubt that getting into the wild-life environment, you will have an opportunity to experience all breathtaking landscapes, spectacular sunsets, and remember that the bigger your zoom is, the better you feel. When you take a photo, please turn off the flash. Why? Because the bright will scare wildlife of all animal species, especially monkeys and rhinos.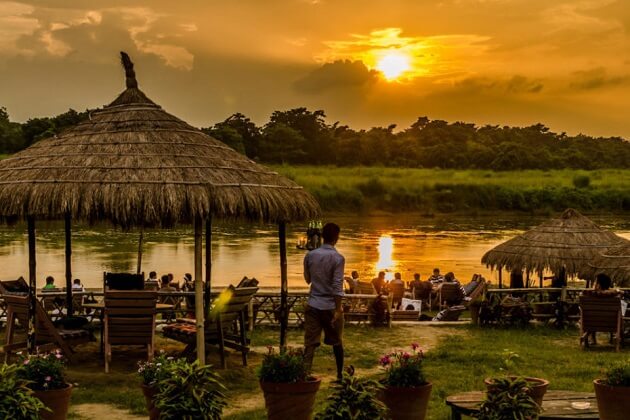 Do not Expect Tiger
A jungle safari tour in Chitwan National Park will allow you to meet Nepal's Big Five. What are Nepal's Big Five? They are 5 superstars of the park including the Greater One-horned Rhino, Asian Elephant, Spotted Leopard, Gharial Crocodile, and Bengal Tiger. All of them are registered as endangered. On your journey of discovering the wildlife there, you can easily witness Gharial Crocodile and Rhino along with Deer, Grey Langur Monkeys, Rhesus Macquaces. Also, in the Sauraha area, wild elephants can be seen on a regular basis.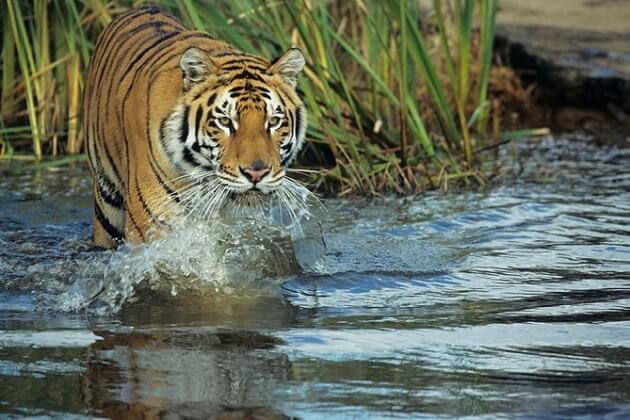 The Chitwan National Park houses approximately 600 Rhinos and 120 Tigers; however, Tigers are elusive. The fact that you are not likely to see tigers there; however, you will certainly see evidence of their existence.
Jeep & Walk Instead of Elephant Riding
Once participating in Nepal jungle safari tours, you will notice that elephant riding is very popular among tourists. Both hotels and guesthouses offer this service and they will tell you that it is the best way to experience the jungle. However, in fact, it's not.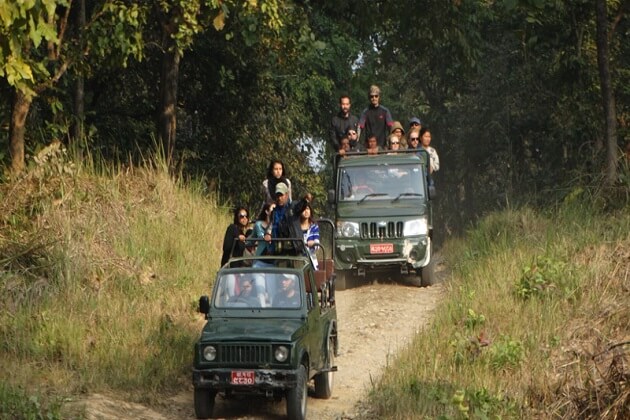 It might be a lil exciting when you sit on an elephant's back and being transferred through the jungle but, the saddle that the elephants carry on their back can cause discomfort and sores. In some serious cases, it can cause catastrophic injury. Moreover, these elephants being forced to carry people and walk under the sun for a long period will suffer serious foot problems as well as exhaustion. So, instead of riding on the elephants' back, you can get into jeep jungle safari or just simply enjoy the journey on foot.