If one asks me which city in Nepal that I like most, and yes – it must be Pokhara, the city of lakes. Without doubt, I consider this chilled-out lakeside city is the most beautiful and peaceful city because of its romantic lakeside views along with the breathtaking vistas of mountain ranges covering around.
Not only me but you and others, I believe, all love the feeling of being unperturbed while indulging yourselves in tranquil ambiance with a cup of café. Due to that, I would like to mention several the best coffee shops in Pokhara for you to enjoy on your memorable Nepal vacation packages. What I am going to share with you below are just my personal opinion.
Top 4 Awesome Coffee Shops in Pokhara
AM/ PM Organic Coffee
One of the best coffee shops in Pokhara due to its wonderful ambiance, coffee & food. I was surprised when I visited the AM/ PM Organic Coffee as they don't have plastic straws for drinking but have copper suppers for the same. As far as I know, it is their great resolve to protect the environment. Vividly remember that I had cheesecake and a smoothie bowl for my friend and both of them were delicious.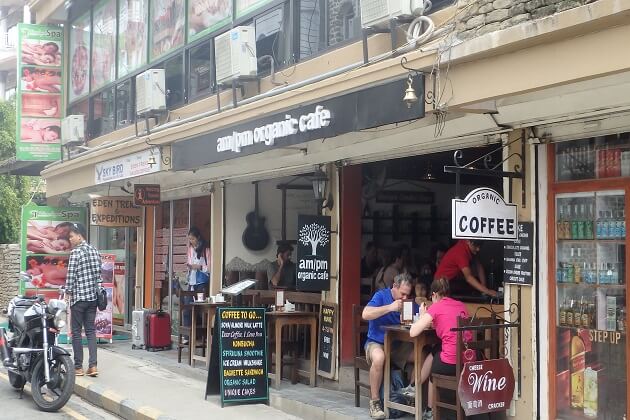 White Rabbit Coffee
Once spend your time getting into this coffee shop, there will be one word that you can say about it: wonderful. White Rabbit Coffee has great coffee, absolutely, along with scrumptious food. I highly recommend you to try sandwiches here. It is amazing, I promise. Along with sandwiches, the espresso is pretty good with 100% organic arabica beans. Overall, this Pokhara coffee shop is a well-worth place you should visit.
You and I
What you can find in this coffee shop is not just good café, you are also able to an art space featuring eclectic artwork including the local emerging artists & abroad, and a paradise for visitors in need of some TLC. If you are a big reader, congratulations because once there, you can spend hours reading books in the library. The You and I coffee shop is a perfect destination for enjoying a cup of café and staring out onto the lake which seems to be the English seaside.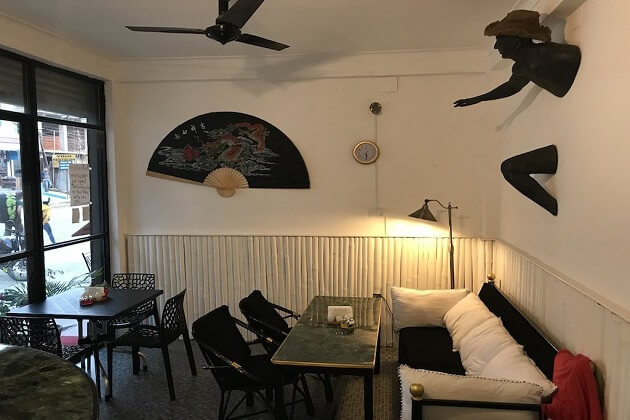 Himalayan Java
If you are looking for a good of joe or chocolate chip cookie, you then count on Himalayan Java. One of my favorite points here is that I enjoy a very good view of Phewa Lake while immersing myself in the cozy ambiance and a good drink. For those who are FOMO (Fear Of Missing Out), the Himalayan Java provides you the free wifi. Also, you can find some light food there but if you are really hungry, you can head to OR2K for a heavy meal.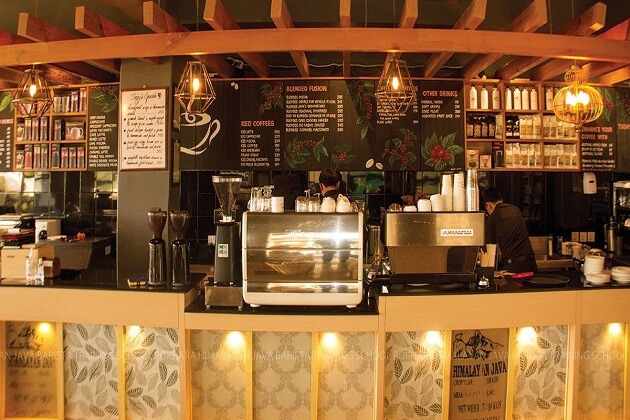 The 4 Recommended Coffee Shops in Pokhara
Machhapuchhre Organic Coffee
Lauded among the locals, Machhapuchhre Organic Coffee is one of the top-notch coffee shops in Pokhara supplying high-quality coffee to many major establishments in Pokhara. The way to reach this coffee shop is quite complicated because you will pass it unless you strolling up Baidam Road. As it is off on Durbar Marg Lane, just simply up from Hallan Chowk. Although it is a little bit hard to come to there, the Macchapuchhre Organic Coffee is still worth if you want to buy high-altitude coffee beans as the shop offers two options including medium and dark roast from 700 to 750 Nepali rupees ($7) for 500 gr.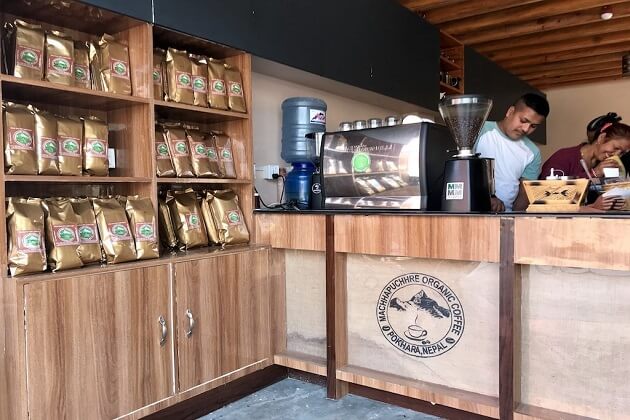 Espresso Workshop
As it was opened in early 2018, the hip and edgy Espresso Workshop is definitely a barista training workshop from Himalayan Java. You can go there and support the talented students by ordering some of your favorite espressos.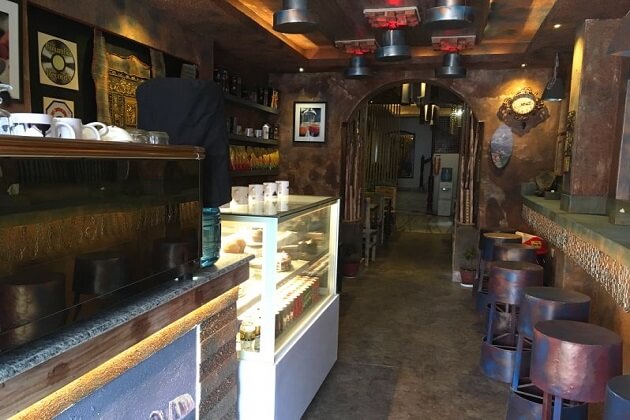 Perky Beans
As far as I have known, the locals love Perky Beans as it is the only coffee shop in Pokhara on my list owning a stunning outdoor seating area with a romantic view of the lake. Not only serving café, but the Perky Beans also offers you an all-day breakfast including muesli, pancakes, croissant sandwiches, chapatti wraps). Takeaway coffee is available there. All you need to do is to pay 10 Nepali rupees extra. If you opt to take a seat and enjoy a cup of coffee, a stunning vista of the sparkling lake and a very good free-wifi will be waiting to warmly welcome you.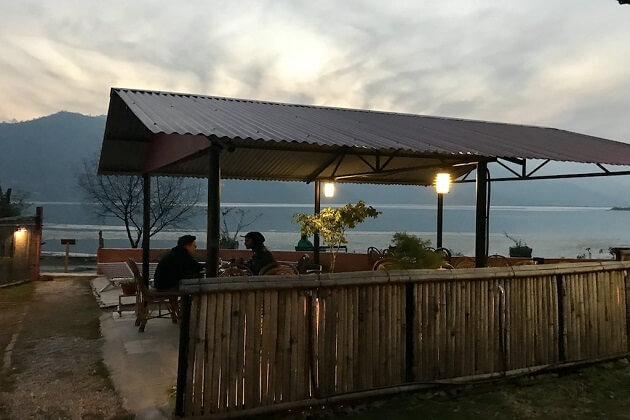 Café Evoke
Cafes Evoke has 2 units as one in Kathmandu and another one is in Pokhara. Although the Café Evoke in Kathmandu is more renowned, its brother in Pokhara is still awesome offering tasty espresso-based from Americanos to frappés as well as tea from Ilam. This Pokhara coffee shop also offers a selection of savory items like veggie wraps, falafel, and hummus.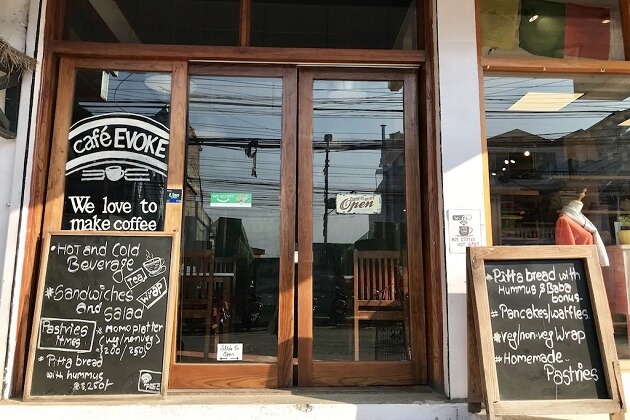 Top 2 Coffee Shops for Digital Nomads to Enjoy Cafe in Pokhara
The Juicery Cafe
Cannot remember how many times I come to The Juicery when I visit Pokhara. Just many times.
Enjoying cafe in Pokhara on the lakeside with marvelous views. Why not? Currently, there would has been another chain opened in the lakeside center building but, the Juicery Cafe I am talking about is the one further up. And now you're wondering what dose this Pokhara coffee shop have to make me fall in love with it. Hmm…!
What I love is the peaceful ambiance & sitting on a cushion while working in the mellow atmosphere. Working but can be totally laid back.  It's awesome.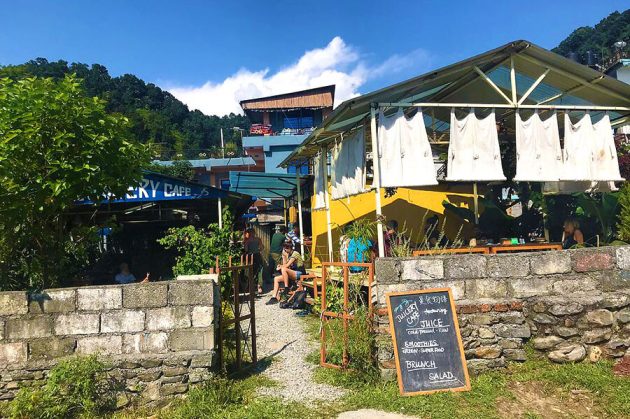 Vegan and vegetarian food are served here with several epic brunch options. Meanwhile, freaking good cafe. One thing I would like to recommend is to visit the Juicery Cafe with a charged laptop.  Maybe their new properties have sockets for your gadgets.
The staff here are totally hospitable and friendly making this coffee shop one of my favorite places to visit in Pokhara. The Juicery opens every day, from 7:00 to 19:00.
Ayurvedico Cafe
A cool & minimalistic coffee shop, Ayurvedico Cafe is one of the best places to enjoy cafe in Pokhara serving scrumptious & healthy food with reasonable prices.  You are a vegan and not into milk, then don't worry because you can find almond & cashew milk instead.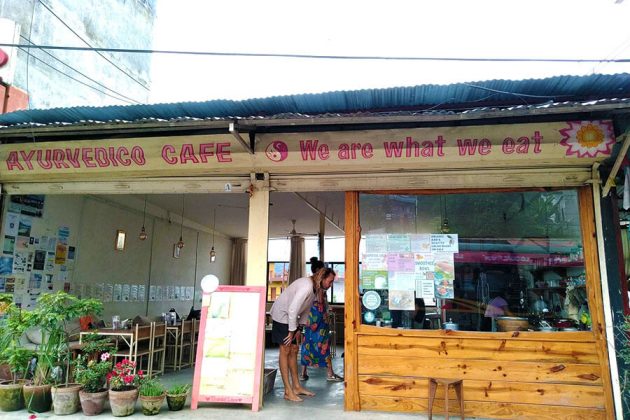 Here, they consider all dietary health choices & have a host of posters up about food education. So, the reason why I mention this coffee shop is that the seats are so comfy with very good sofa that paddle on them & there would be numerous ports to work from anywhere in this Pokhara coffee shop. The Ayurvedico Cafe open everyday from 8:00 to 20:00.